Course Details
Are you looking to build a solid foundation for your new dog or fill in gaps in your current training? This foundations course is designed to provide you with all the little pieces you need to prepare your dog for dog sports. I break down each exercise into tiny steps to make it easy for you and your dog to understand.
This course covers all the exercises in TEAM level 1, which provides the building blocks for developing solid behaviors that can be performed in a variety of presentations. We will cover a range of skill areas, including engagement and focus, heeling, fronts and finishes, distance work, targeting, jumping, scent work, and impulse control.
Introducing all these core areas from the start makes sure that obedience remains fun for both the dog and the handler!
Note that there is a LOT of skills at the first level and this class goes over ALL of them. You will not be able to do all the things in the 6 weeks of class! It's a good thing you have access too this class for a minimum of a full year!
This is an introductory course and makes no assumptions about your dog's prior knowledge. Whether you are new to competitive obedience training or you have discovered a need to revisit skills with advanced dogs, this course will help you prepare to title by video in TEAM. Additionally, you will gain an excellent set of foundation skills for any dog sport or competition venue, such as AKC or FCI obedience, rally, freestyle, and more.
For more information on the TEAM titling program, please visit www.fenziteamtitles.com
Teaching Approach
Lectures are released at the start of each week with all lectures released within the first 4 weeks. The lectures are broken down by each skill, often in multiple parts. I have written objectives and then written instructions for each step followed by multiple video examples for each step. The videos are usually between 30sec to 2min long and are taken from training sessions of a variety of dogs. I do not use voiceover or subtitles in the video. At the end of each lecture is a homework summary with the steps quickly summarized in order.
Several videos will depict training being done with the handler sitting on the ground. These steps can be modified to be sitting in a chair, and may also be modified to have the dog at a higher level such as up on a tall platform or on a bed.
This class will have a Teacher's Assistant (TA) available in the Facebook study group to help the Bronze and Silver students! Directions for joining will be in the classroom after you register.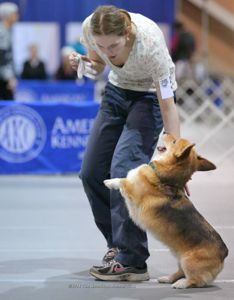 Instructor:
Laura Waudby
Laura Waudby (she/her) trains and competes in obedience, rally, and agility. She was halfway to her OTCH with her UDX corgi, Lance, before his uexpected early retirement. She also has championship titles in USDAA and UKI. By day...(Click here for full bio and to view Laura's upcoming courses)