Course Details
You have the basics of handling from AG 110- now it's time to really play the game - with your first sequences! These sequences are designed to take your skills and apply them with speed, accuracy and confidence. This class is just as well suited as a refresher for an advanced dog as well as a beginner!
We will be working on short sequences that involve the following handling options:
Sends
Front Crosses
Blind Crosses
Rear Crosses
180's
270's
Serpentines
Threadles
There will also be a course options discussion each week, to help you really think about your options on course.
Teaching Approach:
Lectures will be released all at once at the beginning of each week. Lectures include written and video information. Feedback is given in a time stamp format, highlighting each moment of handling.
Knowledge of AG110 is very helpful, but not necessarily required. Please check the syllabus to make sure you are familiar with all the handling maneuvers we will be going through.
Students will need to set up the courses or have someone help them. Some lifting is required. Running and turning will happen during the time you are running a course.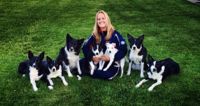 Instructor:
Loretta Mueller
Loretta Mueller (she/her) has been involved in agility since 2003 with her first rescue dog, Ace. Since then she has been involved in a variety of dog training activities including USBCHA herding, competitive obedience, rally obedience, and service dog training. In 2007, Loretta...(Click here for full bio and to view Loretta's upcoming courses)