Course Details
Do you struggle with having a plan for your training?
Do want to "work on it all?"
Do you need direction to decide what to train?
This class will be a "sampler" of different scent puzzles... For each puzzle, we will discuss:
Scent Theory
Hide Placement
Strategies for Effective Training
Get ready for lots of fun, effective training!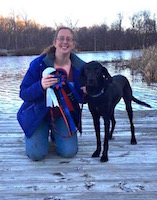 Instructor:
Stacy Barnett
Stacy Barnett is a successful nosework competitor, being one of only a handful of teams titled through the Summit Level (SMT) in NACSW with her dog, Judd. In fact, she and Judd have earned THREE Summit titles (SMTx3)! Stacy is also an international clinician and AKC scent work judge.