Course Details
Do you struggle with how to set hides? Do you accidentally overface your dog or make the hides too hard? Do you have structure to your training so that you thoughtfully build skills? Have you stagnated in your training?
Hide Placement is the answer. Use thoughtful hide placement using air flow considerations to set scent puzzles up for your dog that will allow your dog to progress steadily. Build intentional odor obedience and an understanding of how to truly source a hide. Use Hide Placement to make your training sessions on point and powerful!
Our goal is a motivated dog who understands his job and who can source a hide quickly and accurately!
You will learn to set hides and to understand why your dog behaved the way that he did!
Teaching Approach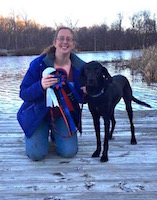 Instructor:
Stacy Barnett
Stacy Barnett is a successful nosework competitor, being one of only a handful of teams titled through the Summit Level (SMT) in NACSW with her dog, Judd. In fact, she and Judd have earned THREE Summit titles (SMTx3)! Stacy is also an international clinician and AKC scent work judge.