Course Details
Fitness is useful for all dogs, but especially for those participating in training and competition in performance sports. Working through a complete fitness workout regularly can positively impact cardiovascular fitness, address flexibility, and add power in muscles which can improve speed. Having improved muscle strength can also help stabilize joints and may help prevent injury.
Many agility skills require specific form, and movements to perform the skills well, safely, and with speed. By considering the fitness principle of specificity we can focus on some fitness exercises that help agility dogs with the specific positions, movements and skills required which will enable dogs to perform these skills with ease and in great form.
We will be covering; key exercise principles, developing an eye for form, taking data, teaching a range of different exercises with discussion on how they may be specific to agility, when and how to progress exercises, looking at exercises to help dogs with correct form for some agility skills, and putting exercises together in workouts. This class will cover some theory, and lots of practical material.
This course is appropriate for dogs of all fitness levels from beginners to advanced dogs that have had clearance for fitness training. Whilst there is discussion of agility specific exercises, all workouts are balanced therefore suitable for any dog.
Please note that dogs who have not finished growing (growth plates confirmed via radiograph, or 18 months or older) will be limited in how much they can, and should do, over the 6 week class.
Video:
Teaching Approach
Lectures will be composed of extensive written detail, and accompanied by photographs and videos that both verbally explain concepts, and demonstrate exercises. The majority of details and concepts will be covered in both written, and video form. There are often multiple videos showing different stages, or dogs, performing exercises. This means that the concepts are accessible to those who like to learn through text, or verbal explanation, or visual explanation.
This class is meant to be intensive, giving you not just the 'how too', but also the 'why'. There is LOTS of information, however if a student feels overwhelmed by lots of written information, they can just focus on the practical components which are highlighted at the end of each lecture with an action such as 'Gather your baseline data, and set some goals for you and your canine teammate'.
Lectures will be released weekly, and are grouped under similar concepts. They will be released sequentially from theory and foundation fitness concepts, through teaching individual exercises, to putting these into workouts.
Feedback is given in detail in relation to the goal of a particular task or exercise. In particular the focus of feedback will be improving a dog's form, and understanding of exercises.
---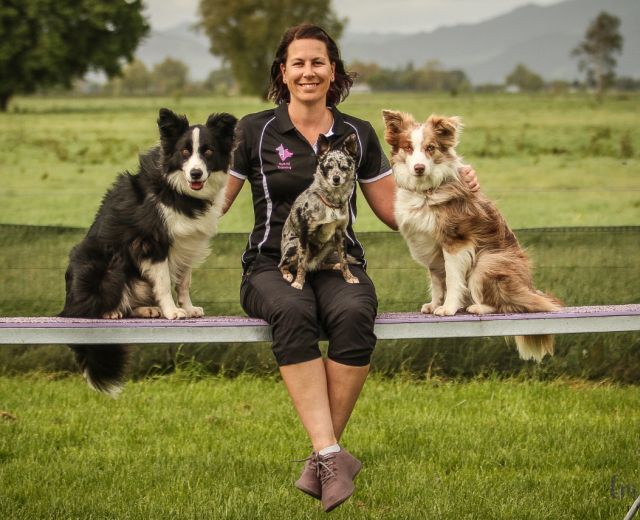 Guest Instructor - Kelly Daniel