Course Details
Every dog sport has at least one element of control included in it's challenges. Whether is a distracting judge, a tempting tunnel or another dog friend nearby, creating control in a way that keeps our dogs happy and engaged can be difficult. This workshop is adapted from Sara's popular class: Control Games for Protection Sports.
In this workshop, we'll teach the concept of control in fun ways, making games out of the exercises so that our dog chooses to stay engaged with us. We will be using food as a reinforcer, but will also discuss utilizing toys and other reinforcement options in this workshop.
Any age dog is appropriate, it's never too early to start these games!
---
Watch the Trailer:
---
Lecture Publish Date: Sunday Aug 13th
Video Submissions Due Date: Sunday Aug 20th @ 12pm noon PT
Feedback & Questions Video Publish Date: Wednesday Aug 23rd
---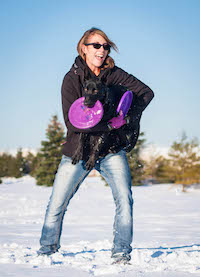 Instructor:
Sara Brueske
Sara Brueske (she/her) has been training dogs for over 15 years, and has experienced a large variety of breeds and sports during that time. Having graduated as a Karen Pryor Academy Certified Training Partner ... (click here for full bio including Sara's upcoming courses)