Course Details
All dogs should be taught to comfortably wear a muzzle. Why? So many reasons! Muzzles can sometimes be necessary, especially if your dog is in pain or injured. There may be safety reasons that make a muzzle desirable in certain situations. Muzzles can make everyone more comfortable when interacting with a nervous or tense dog.
The time to introduce and condition a muzzle is long before one might be needed. Even if you're lucky enough to never need to use a muzzle, it's a great training exercise for both you and your dog. Don't wait until it's a necessary emergency and add to your dog's stress; instead make wearing a muzzle a normal part of your dog's regular routine.
Join Deb and work through a series of fun and effective stages to teach your dog that muzzles are awesome! Deb has organized muzzle training into 8 clear steps, starting with "stick your face in stuff!" and ending with "let's move!" The training plan is broken down into clear and logical pieces. You'll be able to work through all the steps or pick up where you need some extra help and ideas, and move ahead from there.
---
Note: This is a repeat workshop that has run previously under a different course number. Please review your workshop library to make sure this would not be a duplicate purchase.
---
Watch the Trailer:
---
Lecture Publish Date: Sunday Feb 19th
Video Submissions Due Date: Sunday Feb 26th @ 12pm noon PT
Feedback & Questions Video Publish Date: Sunday Mar 1st
---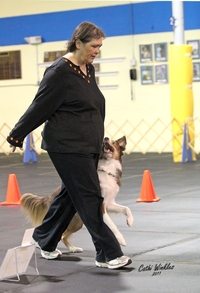 Instructor:
Deborah Jones
Deborah Jones, Ph.D. (she/her) is a psychologist who specializes in learning theory and social behavior. She taught a variety of psychology courses at Kent State University for the past 20 years. Deb has been training dogs for performance events for the past 25 years and was an early...(Click here for full bio and to view Deb's upcoming courses)