Course Details
This is the third in a 4 part series of classes focused on canine fitness and conditioning. Our goal is to provide a comprehensive program that will allow you to understand and safely implement an exercise program for dogs. We will review canine anatomy, canine conditioning and physiology, exercise physiology and science, movement and gait, nutrition, common canine conditions, and programs. This program will help you design a program for dogs – whether it is for overall health and fitness or for a specific sport and activity.
Gold members will be eligible to go through the examination process to be awarded a certificate in canine fitness. Participants will need to check their own regulatory guidelines by the state and country and are fully responsible for their own limitations. This 4 course series will be followed by a comprehensive examination given by Wizard of Paws (the payment company is DSAL), and a submission of four case studies. If the two portions are successfully completed, a Canine Fitness Trainer Certificate will be awarded. (In the process of RACE investigation for the course series.) Only gold members will be eligible to complete the examination.
This series will complement the K9 conditioning classes, but with more depth and more detail, in addition to further topics.
Target Audience: Persons interested in learning more about how to work on physical conditioning and exercise with dogs. Participants may be involved in dog training, exercise, or for their knowledge only. If you are interested in expanding your knowledge on canine fitness and taking it to another level – this program is for you! You may want to explore a different career and offer programs to clients, friends, or increase your ability to help your own dogs.
Teaching Approach
One main lecture will be introduced each week with homework. Supplemental lectures will be released throughout the series with supplemental questions. Students are expected to work at their own pace, but will need to be active throughout the class. I suggest keeping up with the weekly homework and not falling behind. In order to take the exam for CPCFT, students will be expected to remain seventy percent active throughout the four courses at the Gold level.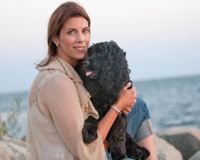 Instructor:
Debbie (Gross) Torraca
Deborah (Gross) Torraca (she/her), DPT, MSPT, Diplomat ABPTS, CCRP has been involved in the field of animal physical rehabilitation for over 17 years and currently owns a small animal rehabilitation practice in Connecticut called Wizard of Paws Physical Rehabilitation for...(Click here for full bio and to view Debbie's upcoming courses)