Course Details
This class is ALL about Converging Odor...
What IS Converging Odor? Converging Odor occurs when there is at least a partial overlap of scent cones from 2 or more hides. For a dog to work this skill effectively, they need to understand how to work GROUPS of hides without getting stuck on one particular hide for perpetual reinforcement. The dog also needs to have minimal latency in returning to the search process after finding a hide. This means that once a hide is found, the dog immediately goes back to searching. This requires FOCUS and ENGAGEMENT.
This class will use my signature method utilizing the dog's innate ability to pattern in order to create an expectation of a hide nearby. I introduced this method in my popular workshop "The Key to Convergence: Using Patterning to Build Expectation". This class replaces, overhauls, enhances, and upgrades my original converging odor class NW241: Nosework Challenges Series 2. You will learn my patterning method and then apply it in all sorts of scenarios that challenge your dog including the use of thermals and complicated air flow.
Example of Heavily Converged Odor though Well Spaced... this search converged heavily due to thermal influences!
Teaching Approach
Lectures will be released weekly. Lectures will be relatively short and will include both theory and exercises. The exercises initially will be rather simple but will build over the course of the class and will ultimately require the learner to interpret the setup and create something similar. The setups in the first week only will be prescriptive. Videos will be included to demonstrate the lecture material. In general, most videos, at least in the early weeks, will be short (under 2:00). All information will be conveyed via written lecture. Videos will be examples only. Week 1 assignments will be easily done at home. After that assignments may require the student to work away from home. If you have questions as to how this can apply to your situation, please reach out to me via the instructor link.
This class will have a Teacher's Assistant (TA) available in the Facebook study group to help the Bronze and Silver students! Directions for joining will be in the classroom after you register.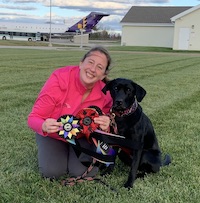 Instructor:
Stacy Barnett
Stacy Barnett is a top nosework competitor and trainer, being the first handler to title multiple dogs with multiple Summit Level titles in the National Association of Canine Scent Work (NACSW), (Judd SMTx3, Brava SMTx2). Stacy has been a faculty member at Fenzi Dog Sports Academy since 2015 (Click here for full bio and to view Stacy's upcoming courses)