Course Details
One of the best ways to work on secondary obedience for protection sports is to do so away from the bite equipment. Developing games and patterns in lower arousal situations and then increasing the level of distraction once the game is established leads to clearer understanding and less conflicted training. It's easy for dogs to work with their handler's if they already know the rules to the game.
This workshop will cover games that you can play with your protection sport dog to introduce the idea of control around high arousal reinforcers. In this workshop we will discuss using The Food Bowl Game, Toy Switch, Dead Toy Retrieves and Marker Games to increase your dog's engagement during secondary obedience.
Watch the Trailer
This is a previously run workshop. Your purchase will provide access to both the original presentation recording and the student feedback recording. There is no opportunity to submit video or ask questions.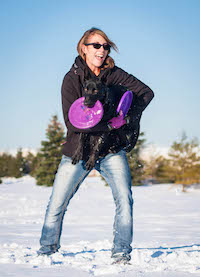 Instructor:
Sara Brueske
Sara Brueske (she/her) has been training dogs for over 15 years, and has experienced a large variety of breeds and sports during that time. Having graduated as a Karen Pryor Academy Certified Training Partner ... (click here for full bio including Sara's upcoming courses)