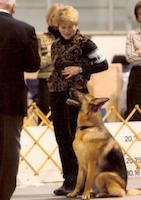 Heather Lawson is a Certified Professional Dog Trainer - Knowledge Skills Assessed (CPDT-KSA) and also a Karen Pryor Academy Certified Training Partner (KPA-CTP), a CGN evaluator and a free-style judge. She has been training dogs and their humans for more that 20 years after deciding that the corporate world just wasn't cutting it anymore. Having had German shepherds for most of her life, she decided it was time to bring one into her family again. Mica was the one and took her on a journey never expected. With a dog people said would never get in the ring, Heather and Mica were able to achieve national standings of Top 10 Obedience Dog two years running and Top Obedience German Shepherd for 5 straight years. Mica was also one of the first GSDs to achieve the CKC Masters Obedience Trial Champion title.
You see, when you say "can't" to Heather, it just means "find another way that works for the dog and human." Provide patience, good communication along with positive reinforcement while you listen to the dog and you'll have a way that can work for everyone. This is the focus that Heather used again with Luka, who achieved national standings, until her retirement. Heather continues to compete in obedience and rally with Tag (Luka's son) and is currently prepping the newbie in the house, Piper, for her competition journey.
Heather is also the owner of dogWISE Training & Behaviour Center Inc. where she teaches group classes for companion pets, competitive obedience and rally, in addition to providing behaviour consults and private lessons.
Heather's website is www.dogwise.ca
Are you tired of being dragged everywhere you go with your dog? Sore shoulders and back? Time to join Loose Leash Walkers Anonymous then and get started on a more...
June 1, 2019
This class is all about foundations! Start a new dog on the right foot or discover missing pieces in your training. This class is designed to cover all the exercises i...
August 1, 2019
Have a question about an upcoming course taught by Heather? Not sure if your dog is suitable for a specific class? We welcome you to contact instructors by email to make sure the course is suitable for you and your dog.
Heather provided very detailed, custom feedback to all of her students in this class. She really went above and beyond to review and analyze my videos. I really appreciate that!
---
The instructor provided great feedback on the gold threads so that even at bronze I had no problems improving my training. This will be a course that I reference in my library for a long time to come. Shawna T.
---
Heather takes each goal and breaks it down into manageable steps. The dogs are set up to succeed. As well the instructor can offer alternate suggestions when needed.