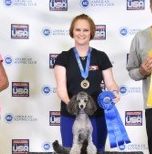 Barbara Currier (she/her) got involved with agility shortly after adopting her Chihuahua in 1997. In 2004, Barbara and her husband Michael were relocated to VA and shortly after she started teaching agility at All Dog Adventures (fka All Dog Playskool) in Richmond, VA. It was there that Barbara was introduced to Susan Garrett and her foundation-based training that is centered around impulse control and relationship building with your dog. She continues to train with some of the best handlers in the world including Tracy Sklenar, Kayl McCann, Jaakko Suoknuuti, Janita Leinonen, Loretta Mohler, Mary Ellen Barry and Jen Pinder and has implemented what she has learned from them into her training program.
Before relocating to GA, while living in VA, Barbara also started her own in-home training and behavioral rehabilitation business. She was the trainer for Richmond Boxer Rescue and also assisted Southeastern Virginia Golden Retriever Rescue in assessing some of their dogs. Barbara has worked extensively with many rescue organizations including Chihuahua and Rottweiler rescue while living in NH.
Barbara was one of the head dog trainers for the F.I.D.O. Program run at Georgia Tech, which creates wearable computing for military, SAR and service dogs.
Barbara has also worked as an animal wrangler for Marvel's Ant-Man, 90 Minutes in Heaven, the TV series Satisfaction and various commercials and print ads.
She has been teaching since 2004 and became heavily involved in the OneMind Dogs handling method in 2014. She has successfully competed over 20 different breeds of dogs since she started competing in agility. She is a multpile National finalist and former world team member. Barbara continues to teach all over the country.
In 2022, Barbara became a certified performance coach with Mental Managment Systems in Flower Mound, TX. This system was created by former gold and silver medal Olympian, Lanny Bassham.
Barbara resides in GA and shares her home with her very supportive husband, Mike, Piper (Parson Russell Terrier), Miso (Miniature Poodle), Eggo (Wocker), Fish (French Spaniel) and bearded dragon Saphira.
"I teach a lot of skill-based classes. You will find that I write several short lectures a week and illustrate them with several short (usually 30 seconds or so) clips. The videos are designed to illustrate the lecture. Homework is specific and the same for everyone in the class and will follow a set path."
Pronouns: Barbara goes by she/her.
Teach your dog to love the weaves right from the beginning. This course will not only create the drive and love for the weave poles but to nail those entries and hang on...
February 1, 2024
This course will cover everything I teach my performance dogs when they come home at 8 weeks until around 6 months of age. The order in which I teach things build on eac...
April 1, 2024
Have a question about an upcoming course taught by Barbara? Not sure if your dog is suitable for a specific class? We welcome you to contact instructors by email to make sure the course is suitable for you and your dog.
This class was fabulous! After learning on channels, my dog had struggled with weave entries for a long time and nothing we did seemed to work. Starting over from the very beginning and moving forward with the short, fun training sessions in this class was just what was needed. The little wind up we did and flinging her into the weaves seemed to make a big difference in keeping it fun, which was so important. Thanks for this great class!
---
Thank you so much for this class! I've never been able to stay motivated to focus on weaves like I have with this class! Weaves are the only thing keeping us from trialling in Agility. I think I'll finally be able to check that goal off the list this year.
---
Barbara Currier is wonderful. She gives so much excellent instruction. She is organized and responds in a quick and timely manner. I've taken two of her courses at gold. I'm a fan!
---
Great class! I love your methods. My dog was just starting the teeter, then in class he just did it! WOW!!!!! He stops on contacts and after your weave class last December he is a weaving fool. Weaves is now one of his favorite obstacles and I can see the teeter catching up! Thank you!
---
I started agility with a dachshund using running contacts. Therefore, when my second agility dog, an over size sheltie, needed to learn 2 on 2 off contacts, I had an issue with communicating things to him. This course came across my radar at the right time because we were both getting frustrated with contacts. Thanks so much!!!!
---
As someone completely new to these techniques, I learned so much in these six weeks I thought my head was going to explode! We are still a work in progress, but this has already helped me in fun matches and in-person classes. I can't wait for my next trial to really test what we have learned together. Barbara is so patient with us, and has such a good eye for the littlest things. That also has helped me learn how I can improve from watching my own videos. I am really looking forward to her next class with FDSA!
---
Barbara is so encouraging and motivating! I feel like I've learned so much! The crosses and turns were presented in an easy to understand format. Her feedback was quick and positive. I particularly enjoyed her videos and the fact that they were done both at normal speed and slo mo along with the details of what she was emphasizing with her body. My dog likes those moves!