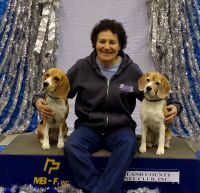 Sue (she/her) graduated from Cornell University College of Veterinary Medicine in Ithaca, NY, in 1980. After three years in private practice, she joined the U.S. Army Veterinary Corps. While on active duty, she completed a 3 year residency in small animal surgery at Texas A&M University in College Station, TX and became board certified by the American College of Veterinary Surgeons. She retired from the Army as a Lieutenant Colonel in 2004, after almost 21 year on active duty. After working for a year on a horse farm in Idaho, she returned to Ithaca to join the staff at Colonial Veterinary Hospital as their second surgeon.
Sue retired from Colonial in December 2009. (Her on-call schedule was interfering with her dog show weekends!) The following month, she started working for Shelter Outreach Services, a high quality, high volume spay-neuter organization. About the same time, Sue joined her colleague, a physical therapist/licensed veterinary technician, to start a canine sports medicine practice at the Animal Performance and Therapy Center, in Genoa, NY. The practice is limited to performance dogs.
Sue showed her first obedience dog, a beagle, Tristan, to a CDX in 1978. Her second beagle, Devon, earned a UD. Her third beagle, Charm, earned a VCD2, and was one of the most titled breed champion bitches in the history of the breed: CH Wilkeep Third Time's A Charm UD, RE, MX, MXJ, AXP, AJP, TD. Two golden retrievers, between the beagles, were great pets and therapy dogs. Sue currently is training her 8 year old her beagle, Ivy (CH MACH Wilkeep Ivy League, CDX, RN, TD) for utility, and teaching her 2 year old beagle, Quinn, foundations for several sports.
Pronouns: Sue goes by she/her.
There are many musculoskeletal injuries that can occur to performance dogs. Some are subtle and come on gradually. We are not really sure if there is something wro...
April 1, 2024
Have a question about an upcoming course taught by Sue? Not sure if your dog is suitable for a specific class? We welcome you to contact instructors by email to make sure the course is suitable for you and your dog.
This was the most engrossing and valuable class I have taken from FDSA. It was like being given a key to the locked door behind which vets practice their craft. I have often struggled to find a vet who genuinely respects the knowledgeable and committed owner as an equal member of the team caring for their dog - Sue seems to be that magic person. I can't really express how great it feels to have a vet treat dog owners with respect for their observations and accumulated knowledge, regardless of where and how it was acquired. I was amazed at the amount of effort Sue put into preparing the class. I was impressed at how she nailed the appropriate level of detail to present, and made it clear what roles the owner could perform themselves and what actually required the expertise of a trained vet. I was blown away by the amount of detailed information Sue contributed to the forum threads. All in all, the value for the money was through the roof, in my opinion, certainly for Bronze and especially for Silver.
---
So much great information in this class and great discussions on each topic. Organization and class structure were phenomenal, Sue was terrific, and I learned a ton. Thanks FDSA for offering another great course!
---
This was a unique class that I probably never would have taken if my dog hadn't just gotten injured. I totally lucked out that the class was available. The material was detailed and informative, but not overwhelming. The information in this class is something that every serious dog sports person should know. As an instructor Sue was helpful, supportive, and engaged, and she really helped me navigate the decisions surrounding my dog's injury. This is a great class for anyone who wants to know more about sports dog injuries--how to prevent them, and what to do when they occur.
---
I am immensely thankful that this class was offered. It happened to be very timely for me, as I have a dog who is struggling with a diagnosis for her physical problems. Sue was very thoughtful, concise and clear. Her lectures gave me much-needed background information and a 'big picture" view. Her ability to wade through my dog's issue and distill things down to some point of clarity was just exactly what I needed. Her feedback about my specific dog was kind, encouraging and empowering, allowing me to ask the embarrassing questions, experiment, and use the information she was providing to gain a greater understanding about my dog.