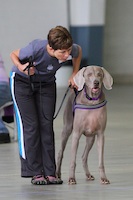 Melissa Chandler (she/her) lives in Ohio and is owned by her Weimaraner and Vizsla. Melissa has been addicted to dog sports since starting in 4H and AKC Jr. Showmanship. She has competed in conformation, agility, obedience, hunt tests, nose work, and rally. She has also successfully trained and handled non-owned dogs to many titles and championships.
Melissa's Weimaraner, Edge, was so excited about nose work she sought to learn everything she could to give him the best foundation and build his confidence and drive. Melissa and Edge trained with FDSA since the very first nose work class and never looked back! Edge stressed down and was very fragile, but through Amy Cook's Bogeyman class and drive building games, Edge gained confidence in ways never imagined, allowing him to be a very successful NW competitor. They earned their NW1, NW2 and NW3 with many placements including overall trial placements. They also earned their NW3 title in their very first trial! And another NW3 in their second trial. Both with placements and multiple "Ps"!! Melissa attended many nose work seminars and volunteered at many trials, allowing her to expand her knowledge and gain different aspects of the sport. She now teaches classes locally and presents seminars, including Nose Work Games!
Melissa has been competitive in agility for many years. She owned 2 of the 3 ADCH Weimaraners and the only USDAA Metallic Champion Weim. She has also bred/trained/handled the #1 Weim in agility (AKC/Weimaraner Club of America) for many consecutive years and placed 10th at AKC Agility Nationals. She has earned a CDX on two different dogs and trained Edge through Utility, but he indicated that nose work was his passion. Bam!, her young vizsla, is just starting his agility career, is training for nose work, obedience competition and has been very successful in the field.
Melissa was doing parkour before "parkour" even existed. She and her Weims have always loved playing on playgrounds and enjoyed playing in and on things, especially in wooded areas. Her love of agility and love of outdoors is a great combination for parkour.
Melissa's strengths are problem solving by looking outside the box and working with soft dogs. She enjoys helping others and brainstorming to help other teams succeed. She has taught private lessons in agility and nose work, focusing on solving specific training problems. Owning and working with soft dogs has given her the ability to coach others to help build confidence and setting up training sessions specifically with soft dogs in mind.
Pronouns: Melissa goes by she/her.
Nosework / Scent Work is the popular new dog sport that is sweeping the nation, and you can get in on the fun! Our classes are taught with the method used to produc...
December 1, 2023
Want to continue the Nosework fun? Then this class is for you! This is the third skills level course in our nosework program and&nbs...
February 1, 2024
Nosework is easily the hottest new sport around, and it's easy to see why! It's fun for humans, dogs love to participate, and it's good for building confidence and focus...
April 1, 2024
Nosework / Scent Work is the popular new dog sport that is sweeping the nation, and you can get in on the fun! Our classes are taught with the method used to produc...
June 1, 2024
Have a question about an upcoming course taught by Melissa? Not sure if your dog is suitable for a specific class? We welcome you to contact instructors by email to make sure the course is suitable for you and your dog.
No matter what level your dog is currently working, the many games presented can be modified to offer fun and challenging searches! The games are very creative and help the dog learn or practice several helpful concepts. I felt like my dog was rather advanced and we still learned a great deal and had lots of fun with all the choices presented. Chris P.
---
Melissa, you've helped us become a better team. Without your sensitivity for soft dogs, thoughtfulness, support, and constant detailed feedback we wouldn't be where we are now. I'm confident about the path we took, and know we'll be a happy team. I've learned to read my dog much better, and pick her up where she needs support. Thank you very much!
---
So this is a shout out to Melissa to say thank you for paying attention to the working style and particular needs of each of our dogs while helping us progress in our skills!
---
Melissa was terrific! Very supportive, went the extra mile to post videos to illustrate what she was explaining, and very encouraging. I appreciated the fact that she encouraged more posts by our very small class. I felt that she was thinking hard about how my special needs dog perceives the world, and how to tailor exercises to his strengths and weaknesses. I'd consider continuing in nose work not because I ever plan to even bother with the ORT, but because I got so much out of Melissa's helpful comments not only to me, but to everyone.
---
Melissa does a great job of engaging the class as well as starting and keeping chat/topics going within the forum. This results in active participation and excitement throughout the course.
---
Melissa, I really enjoyed your teaching style. All the questions were answered thoughtfully with clear and concise information. Your classroom had a very positive and fun atmosphere!! Thank you!!
---
I took Parkour class at Bronze rather on a whim, wondering if it might help one of my dogs with confidence for physical obstacles in his tracking work. What I got was much more....physical exercise, improved relationship, teamwork and trust with both my dogs, and more connection on our walks. Melissa does a great job of introducing the exercises and has LOTS of video examples. I'll definitely be hoping for a Gold spot in a future Parkour class. KylaS