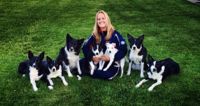 Loretta Mueller (she/her) has been involved in agility since 2003 with her first rescue dog, Ace. Since then she has earned ADCHs with 4 border collies — Zip (retired due to back injury), Klink, Gator (achieving his ADCH at the age of 2.5 years), Lynn and Gig. Lynn was 2013 Central Regional Grand Prix 22" Champion, as well as being a steeplechase and Grand Prix semi-finalist. Gig is just starting her career!
Loretta and her dogs are no strangers to the finals at USDAA World Championships. Since attending her first nationals in 2008, she has competed with one or both dogs in each of the subsequent finals. At the 2012 USDAA World Championships, she had two dogs in EACH of the 3 finals, Grand Prix, steeplechase and DAM tournament.
In addition to working with her border collies, Loretta was the trainer for the famous little Jack Russell terrier Crackers. Crackers has been on IFCS and WAO teams since he was 2 years old. Sadly he had to be retired due to an autoimmune issue.
In 2014, Loretta was chosen to be the assistant coach for the IFCS World Team, which competed in the Netherlands. The team was very successful in this competition with many medals won.
After their success, she was asked to be Head Coach of the WAO World Team (USA). She has been head coach now for the last 4 years. Again she has helped the team be successful, with many medals won.
Outside of agility, Loretta has trained dogs for USBCHA herding, competitive obedience, rally obedience, and service dog work. Today she runs Full Tilt Dog Training in Brainerd, MN, which she founded in 2007, and travels nationally and internationally giving handling seminars.
Loretta has an ability to work with all different breeds of dogs because she believes there is never a "one size fits all" method in training. She is very good at working with each dog and handler as an individual team to help them succeed. One of her specialties is building drive in dogs who otherwise might be a challenge. She has also helped a number of dog-handler teams overcome unwanted stress-based behaviors. She believes it isn't just about the handling of the courses, but the entire picture that makes a great agility team!
Pronouns: Loretta goes by she/her.
Are you trapped inside with your pup during the extreme heat or cold? Do you only have a very small space to work with your dog and want to perfect your agility skills? Do y...
February 1, 2024
Are you familiar with dog sports but new to agility? Feel out of place in a beginner's class but not sure where to learn the basics for this sport? Been in agility...
April 1, 2024
If you want to do dog sports then you'll want a variety of foundation skills. One of the most critical of these skills is teaching your dog to jump! If you hold your breath w...
April 1, 2024
Have a question about an upcoming course taught by Loretta? Not sure if your dog is suitable for a specific class? We welcome you to contact instructors by email to make sure the course is suitable for you and your dog.
Loretta is so enthusiastic and encouraging while still helping everyone with the big picture down to the tiny details. I'm hooked and I'm just hoping I can grab a gold spot in her next class before it fills up! Lisa H.
---
Second by second detailed feedback, tons of emotional support, and my dog's skill level went from "knows nothing about agility" to "WOW!" A world class agility friend of mine reviewed my week five video and said she was stunned by how much we had learned. Awesome course, awesome instructor - just....awesome!
---
I love working with Loretta. She really goes out of her way to ensure your success - even if that means addressing issues in the video that aren't exactly covered in the materials - what a great find! Thanks for all the motivation you give me to keep on going!
---
Absolutely amazing to realize what you can learn about teaching skills and handling moves under the watchful eye of Loretta. Everybody made incredible progress and learned detailed and technical skills that go way beyond basics.
---
I love Loretta's detailed feedback. She makes things I couldn't even see before seem simple and apparent. I feel I have grown by leaps and bounds over this very short six weeks. I am not only learning agility, but learning how to analyze my training videos. I really can't say enough good things about this class! Lisa H.
---
WOW - Loretta Mueller truly cares about her students' success. She provides prompt, detailed analysis and extremely helpful suggestions. I absolutely love her approach to teaching - she knows her subject matter, can explain it with great examples, is able to offer wonderful suggestions for improvement tailored to each student team, and does everything with patience and humor. She also follows up with her students if she hasn't heard from them for a while and has great empathy and compassion with the struggles that people go through in their daily lives. Loretta is one of the best teachers I have ever had for any type of course!!!!!!
---
Loretta provided excellent materials. I have taken other foundation jumping classes through the years, but this one was best because of Loretta's clear explanations about what to do, what to look for, how to set up and work grids.
---
Loretta is amazing! I never knew what went into teaching a dog how to jump. In the past it was set the jump out - go over it. I love watching my dog learn and problem solve.
---
Loretta Mueller is absolutely the best - she knows her sport, explains it well, provides the kind of detailed analysis and recommendations that only an extremely talented teacher can do - and she does all of this with patience, humor and humility. She is a born teacher!