Barbara Lloyd is an Indigenous dog trainer from Regina, Saskatchewan, Canada, with her roots in the Saulteaux Nation. She has a special interest in behavioral issues in dogs, with a strong focus on PTSD and aggression. Most of Barbara's past and current dogs have come from shelters or rescues and are primarily mutts. She enjoys the challenges of mutts and trains her dogs to the best of her and the dog's abilities.

Professionally she works with dogs from reserves in rescue all the way up to top pedigreed purebred dogs. Barbara's favorite class to teach is SMART Puppy, she calls it her weekly Love In, all rainbows and sunshine. She also accepts dogs with behavioral issues for board and train. In the past she has trained dogs for movies and commercials.

Barbara holds a BA in Philosophy with a specialization in Ethics. She has also completed Chicken Camp with Bob Bailey & Parvene Farhoody. Professionally
she hosts a nationally broadcast radio show on CBC Radio called Canine Line, a call in show. She is also an avid writer and is the Resident Puppy Columnist for the internationally distributed Total Rottweiler Magazine. Barbara is a member of the RKNA and is the Chairman of the Board for the Rottweiler Klub of North America Community Affairs. She is also the Owner of The Dog's Den Training School in Regina, Sask. Canada where she offers classes, consultations, lectures and board & train. Additionally she is recognized by the Saskatchewan Trial Lawyers Association as an Expert Witness in Dangerous Dog Cases. Barbara was the 4th Certified International Dog Parkour Instructor in the world and she is also a Certified Mentor Trainer with Animal Behavior College. Another one of her favorite teaching activities is coaching competitors from Saskatchewan & Alberta in Portuguese Water Dog, Water Work.

A strong believer in Professional Development Barbara is always challenging her knowledge base by learning new dog skills. Barbara's current new endeavor is training and titling in CKC & AHBA herding with her mutt Dori Time and a client's Giant Schnauzer. Her main reason for actively learning new dog sports is to keep her in the mindset of a student to better serve her own students, it keeps her humble and in the real world.

Currently Barbara competes in Rally, Agility, Tricks, Parkour & Herding, she is also working through the Fenzi Team titles with her mutt Brian.

Outside of dogs, Barbara is a world traveler and amateur photographer with a special fondness for ancient ruins and cultures. She has climbed pyramids, rappelled down waterfalls and scaled the loose rocks of Angkor Thom, the main temple from Tomb Raider, visited ancient temples and monasteries, and accompanied a scorpion and tarantula hunter deep in the Cambodian jungles.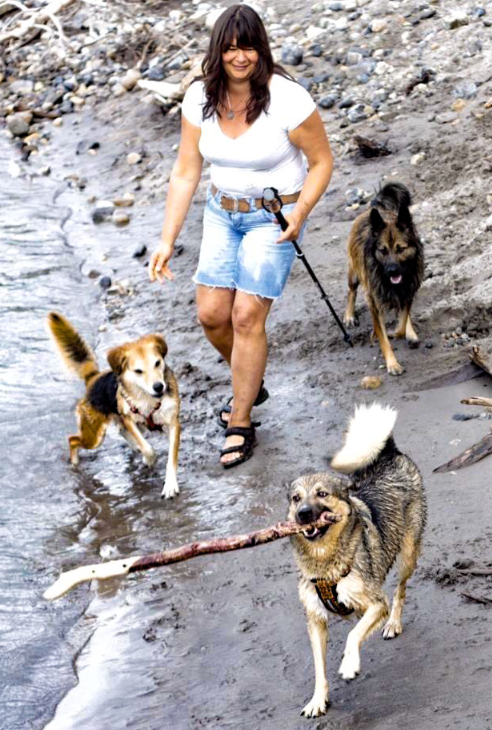 Barbara Lloyd

The Dog's Den Training School

https://www.facebook.com/350727036678/posts/10159859571981679/

www.dogsden.ca

dogsden@icloud.com