=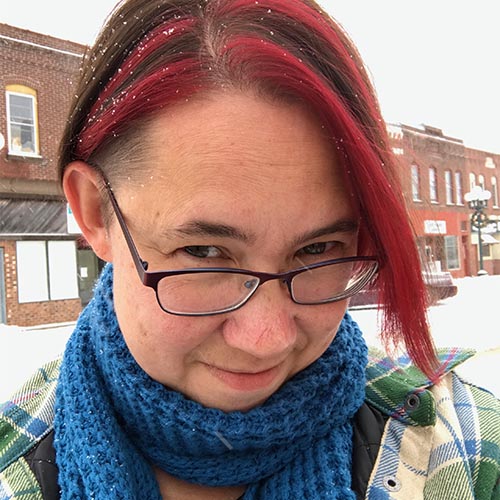 Amy Johnson's (she/her) start in professional photography came when she was taking pictures of her friends' dogs at conformation shows, and quickly surpassed both her interest in showing her own dog and the capabilities of film. She was quick to make the move to digital, starting with Canon's first digital SLR, the D30.
Amy is the official show photographer for many of the premier agility events in the United States, including the AKC National Agility Championships, AKC Agility Invitational, USDAA Cynosport World Games, UKI US Open, UKI West Coast Open, and NADAC Championships, as well as numerous local trials, regional events, and breed national specialties. She has photographed a wide variety of dog sports, including agility, obedience, rally, and conformation. She also enjoys the challenge of photographing birds and other wildlife.
Amy merges her passion for photography with a strong background in education, which includes a MA in education and five years of experience in the classroom teaching middle and high school math.
Amy has lived in northern Minnesota since 2000. She has two boys, Micah and Cameron, and two dogs, Zorah (yellow Lab mix) and Spy (Great Dane). The name of the business, GreatDanePhotos, is a reflection of Amy's love for this particular breed.
Amy is fluent in both Canon and Nikon, using the Canon R3 or Nikon Z9 paired with a 400mm f/2.8L as her primary agility gear. For birds, wildlife, and landscapes, she has a Canon R3, R5, and R7 in her kit, paired with a range of Canon lenses. She knows just enough about Sony to be dangerous (i.e. answer basic questions about it).
Amy's businesses can be found online at
Amy's email address is amy@focusedwild.com
Pronouns: Amy goes by she/her.
Have a question about an upcoming course taught by Amy? Not sure if your dog is suitable for a specific class? We welcome you to contact instructors by email to make sure the course is suitable for you and your dog.
Amy is Ah-mazing. This is the only class I've done that I have looked at every homework assignment and critique on every thread and worked through the lectures on my own. I'm a suspicious person by nature so have to see the big picture of how something will turn out before I'll trust to try it out with my own dogs, this was a little different in that regard, but I trusted that figuring out the skills labs were going to lead to improvements and they did. My black blob dog is looking great. While I'd been eyeing up the class for a while it was a last minute decision to register ont he last day and I'm so glad I did, it has entered into the top 4 classes I've done.
---
I've been using an SLR for many years starting with film then moving to digital. While I used aperture priority a lot with film, I just used the auto settings when I went digital. My sister is a professional photographer and she several times gave me lessons on manual but it didn't "click". Your lessons did "click"! I have shot some beautiful photos in manual mode. Still not confident to use manual in must have situations but that will come with practice.
---
I had put off buying a digital SLR camera because it all seemed so overwhelming to learn. The class sign up information includes great information on which camera and lens give the best option for dog pictures. I bought one of the set ups she suggested and have been so happy with it. She even gives good tips on how to buy used equipment to make things more budget friendly. During the class Amy explains the basics of digital photography with very practical labs that teach you the skills you need. Learning those skills as they specifically apply to dog photography is invaluable! Amy is very kind and constructive in her comments. She pushes you to be better, but gives you the confidence to be able to do it. After six weeks, I am so comfortable with my camera and operate it on full manual settings. The quality of my photographs has increased dramatically over the course of the class. I can't wait to take the next class! Dana N.