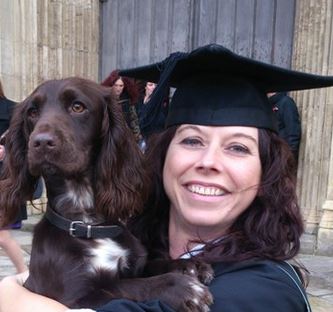 Jane Ardern BSc (Hons) Dip.CABT is a leading dog trainer and behaviourist in the UK, who specialises in issues concerning working and performance dogs. Recognised as a hands-on realist, Jane combines an academic background with extensive practical experience as an 'in the trenches' trainer. In 2016 she was Kennel
Club Dog Trainer of the Year.
In 2012 Jane graduated with an honours degree in canine behaviour and training from Hull University, achieving the highest grade ever given in the advanced instructing module. She was invited to return to the university to teach on the foundation degree course, and went on to study for a level 3 award in education and training. She was also given recognised teacher status up to level 6 in canine related subjects. Jane has lectured for COAPE, the internationally course provider for animal behaviourists.
Jane owns WaggaWuffins Canine College, which provides puppy, pet dog training and a practical instructor training programme. She provides online support through a membership community for other enthusiasts and professionals and is the creator of Smart Pup, a puppy training subscription box. Jane is a member of the Professional Speaking Association (PSA) and has spoken at seminars and events all over the UK.
Jane says she has learned the most when knee-deep in mud in a wood full a pheasants, rabbit and deer, applying the classroom theory to the real world. Her mission is to help people who are looking for a positive and ethical solution to problems around excitement, arousal, drive and predatory behaviour.