Course Details
This workshop continues on from the prerequisite workshop titled "Precision Heeling".
In that workshop you were introduced to the idea of using pocket hand to control your dog's position at your side, rewarding correctly, removing the food from your hand, and communicating to your dog that both their front and rear end matter - stay in place regardless of movements on a pivot, circle, backwards, etc.
Except - it's never simple! There are always blips in the road and progress to be made, which is where this webinar steps in.
In this webinar, we will look at the following:
Removing food from the pocket hand, from the hand altogether, and then from the body.
Selecting and implementing your final hand position
Basic ways to bring energy into heeling including...moving! We'll use "arcs" to get us on our way.
Finally, we'll chat a bit about the balance between drives and control.
---
This workshop is perfect for anyone who has taken the first workshop OR who has taken the precision heeling class that is offered in self study, and is looking for more refinement or problem solving to allow them progress to the next level. The Precision Heeling part one workshop is available currently as a prerequisite purchase for students who have not purchased it previously. Click here to purchase the prerequisite.
---
Note: This is a repeat workshop that has run previously under a different course number. Please review your workshop library to make sure this would not be a duplicate purchase.
Watch the trailer
---
Lecture Publish Date: Sunday November 14th
Video Submissions Due Date: Sunday November 21st @ 12pm noon PT
Feedback & Questions Video Publish Date: Wednesday November 24th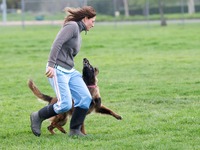 Instructor:
Denise Fenzi
Denise Fenzi (she/her) has competed in a wide range of dog sports – titling dogs in obedience (AKC and UKC), tracking (AKC and schutzhund), schutzhund (USA), mondioring (MRSA), herding (AKC), conformation (AKC), and agility (AKC). She is best known for her flashy and precise ... (Click here for full bio and to view Denise's upcoming courses)