Course Details
This course will cover everything I teach my agility dogs from 6-9 months of age. The order in which I teach things build on each other. This is also the same format I use when taking in a rescue or older dog that needs training. This course will cover all the body awareness exercsise I do before I start major obstacle and sequence training.
Teaching Approach
I teach a lot of skill-based classes. You will find that I write several short lectures a week and illustrate them with several short (usually 30 seconds or so) clips. The videos are designed to illustrate the lecture. Homework is specific and the same for everyone in the class and will follow a set path.


This class will have a Teacher's Assistant (TA) available in the Facebook study group to help the bronze and silver students! Directions for joining that Facebook group will be in the classroom after you register.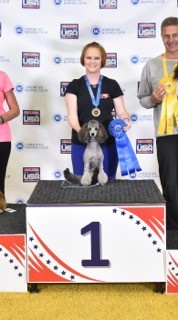 Instructor:
Barbara Currier
Barbara Currier (she/her) got involved with agility shortly after adopting her Chihuahua. In 2004, Barbara and her husband Michael were relocated to VA and shortly after she started teaching agility at All Dog Adventures (fka All Dog Playskool) in Richmond, VA. (Click here for full bio and to view Barbara's upcoming courses)
Syllabus
Week 1-Puppy Jump Grids
Set Point Grid
Straight Line Equal Distance Grid
Set Point with Height Grid
Week 2
Bend Grid
Diagonal Line Grid
Perch Work
Week 3
Back Up
Back Up Stairs
Balance Disc
Week 4
Peanut
Foundation Jump Grids-Set Point
Bend/Slice Variation Grid
Week 5
Straight Line Equal Distance Grid
Straight Line Equal Distance with Height Grid
Distance Grid
Week 6
Bend Work
Progressive Grid
Wobble Board
Prerequisites & Supplies
You will get the most out of this course if you have taken School of Fish-Part 1 (FE175). It is available for purchase on our prerequisites page for this session only.
Equipment Needed:
Perch
Balance Disc
Peanut ball
4-5 jumps
Stride regulators (jump bumps) or jumps that can be set to 4"
wobble board
Sample Lecture
Week 1 Assignment 1
Puppy Jump Grids (4-5 Months)
Set Point Grid
My background before dogs was in horses. I did show jumping for 20 years before training dogs full time. When training horses for show jumping, we rely heavily on jumping gymnastics to teach the horses how to jump properly. I was very surprised when I entered the agility world only to discover that jumping is one of the least trained behaviors.
Naturally gifted jumping dogs are few and far between. Yes, our dogs can jump when running in the woods or playing around the furniture in your home but when we ask them to do it in performance sports we are asking for jumping in collection or extension, turning, lead changes and so on. All these things change how our dog's jump. It is important at a young age that we start to teach our dogs how to use their bodies effectively when jumping.
I use Susan Salo's Jump Grids with all my puppies. I do not start puppy jump grids until my puppy is 4 months old or older. I only use jump bumps (PVC pipe cut in half) or 4" bars. There is no height at this point because we don't want to put any excess pressure on joints or growth plates that are that are still developing.
Some things to remember when doing jump grids with young puppies:
Some puppies may not be ready for jump grids as early as 4 months so don't push it if your puppy is not ready.
Sessions should be very short
For Jump Grids a balanced start line is important.If your puppy does not have a start line stay and you need someone to restrain them, be sure it is not like a restrained recall.You want the holder to be calm and try not to allow the puppy to pull forward which puts their weight on the forehand.
Puppies never jump height.Only jump bumps (stride regulators) or 4" bars.
The first grid I start with is the Set Point Grid. This grid teaches the dog how to gather themselves to come off the ground and teaches them appropriate take off distance. This grid is done with no handler motion and no speed coming into the grid for the dog.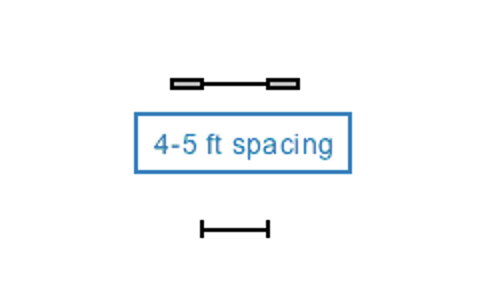 ***Both jumps are bumps. 1st one is small bump and 2nd one is large bump. 6 foot spacing for very large breeds, 5 foot spacing for medium dogs and 4 foot spacing for small dogs.
A food bowl or toy are placed 1.5 stride lengths off the last jump. The handler will stand lateral off the toy or food bowl. It is important that the dog drive to the toy or food and not be rewarded from the handler. This is to ensure the dog is task focused not handler focused. If your dog comes to you, just redirect them back to where the reward is. Only do a maximum of 2 reps per side. Some puppies may only be able to handle one rep each side and that is fine.
Testimonials & Reviews
A sampling of what prior students have said about this class ...
Barbara has an expert eye to evaluate jump mechanics and a wonderful wit and ability to explain concepts and rationale on what each exercise/grid is trying to achieve. Fantastic instructor and open to providing helpful suggestions or tweaks to improve performance. I really valued her attention to detail and tailored comments to my specific situation.
---
Excellent intro to jumping for puppies. I have done a lot of this grid work with my older dog and they really help the dog to learn to jump correctly. I will continue this work with my puppy.
---
Barbara provided very specific, usable feedback on each video submitted. I learned a lot and the course made me want to work with her more.
---
I really enjoyed this class. The course is fantastic as I introduce my dog to jump mechanics. These were essential first steps in agility jump mechanics.
---
Registration
---
There are no scheduled sessions for this class at this time. We update our schedule frequently, so please subscribe to our mailing list for notifications.
---
Registration opens at 9:30am Pacific Time.
AG275 Subscriptions



Gold




Silver




Bronze

Tuition

$

260

.

00

$

130

.

00

$

65

.

00

Enrollment Limits
12
25
Unlimited
Access all course lectures and materials
✔
✔
✔
Access to discussion and homework forums
✔
✔
✔
Read all posted questions and answers
✔
✔
✔
Watch all posted videos
✔
✔
✔
Post general questions to Discussion forum
✔
✔
✖
Submit written assignments
✔
✖
✖
Post dog specific questions
✔
With video only
✖
Post videos
✔
Up to 2
✖
Receive instructor feedback on
✖
Find more details, refund policies and answers to common questions in the Help center.
Copyright © Fenzi Dog Sports Academy and individual instructors.