Course Details
Nosework / Scent Work is the popular new dog sport that is sweeping the nation, and you can get in on the fun! Our classes are taught with the method used to produce the nation's top drug and bomb detection dogs! This backchaining method is effective on almost all dogs, from insecure and unfocused dogs to highly driven and intense workers. The proof is in the pudding; dogs going through only one or two levels of our courses are earning their ORT, Nose Work and Scent Work titles in record time! Even if your dog has failed using other methods, we can help you succeed!
This is the second course in our nosework/scentwork series, and continues on where NW101 left off. If you have not completely caught up with everything in NW101, that is okay. We will just progress from where you currently are. In general, we begin with the assumption that your dog has or is close to having the skill required for an ORT or AKC Novice Containers. We will work through each of the elements required for the NACSW NW1 title - interior, exterior, container, and vehicle search, as well as AKCs Buried hides (water and sand) element - while looking at the unique challenges each poses. There will also be discussions on how to handle distracted dogs in exterior searches. We'll also discuss handling techniques that you can implement to help support your dog in his search.


Teaching Approach
Lectures will be released weekly so you can plan your week based on homework and reading assignments. In addition to exercises, there will be lectures on key concepts. Homework is not assigned on the concept lectures. Lectures with exercises will include a written portion, example videos, and homework. The exercises will build on each other over the duration of the course, and most of the interior requirements can be done in smaller spaces. Exteriors and vehicles are also a part of the class syllabus. There will be some bending required, however no quick movements are necessary unless it is required by your dog. If you have questions in regard to content or requirements, please contact me via the instructor link.
This class will have a Teacher's Assistant (TA) available in the Facebook study group to help the bronze and silver students! Directions for joining that Facebook group will be in the classroom after you register.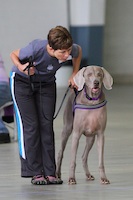 Instructor:
Melissa Chandler
Melissa Chandler (she/her) lives in Ohio and is owned by her Weimaraner and Vizsla. Melissa has been addicted to dog sports since starting in 4H and AKC Jr. Showmanship. She has competed in conformation, agility, obedience, hunt tests, nose work, and rally. She has also...(Click here for full bio and to view Melissa's upcoming courses)
Syllabus
Week 1: Foundation / Self-Assessment / Baseline
Self-Assessment and Baseline video

Introducing your dog to different qtip holders

Musical Chairs

Proofing stay at source and duration

Food and toys in Containers

Hide Placement: Accessible and Inaccessible

Supplemental: Proofing games

Supplemental: Foundation games

Supplemental: Intro to Interiors

Supplemental: Line of Objects
Week 2: Interiors and Containers
Air Flow

Cluttered Room

Interior search with varying height

Interior search in novel area

Container thresholds

Pattern Games, Start buttons, Loopy Nose work / Stationing

Supplemental: Acclimating your dog to crating for trial prep
Week 3: Intro to Exteriors
Acclimation and pattern games to prepare for distracting environments

Using the wind to your advantage

Fun and Focused exterior game

Importance of the value of the reinforcer

Exterior considerations

Use of Warmup boxes

Small area exterior in known environment

Small grass/dirt exterior in known environment

Introducing new odors
Week 4: More Exteriors and buried
Expanding the search area in a known environment

Assessing the difficulty of novel locations

Exterior search, small area in a novel, easy environment

Exterior search, larger area in a novel, easy environment

Intro to Buried hides in sand

Intro to Buried hides in water

Duration at source

Bonus: Nose point accuracy games
Week 5: Intro to Vehicles
Intro to Vehicle searches

Vehicle Hide placements with small tin

Vehicle Hide placement with Straws/tubes

Vehicle Search, easy novel environment, known vehicle

Vehicle Search, easy environment, novel vehicle

Vehicle Search, add cold vehicle in known environment

Bonus: Wet and Wild game
Week 6: Putting it all together
Introducing multiple hides

Developing independent start lines

Building search stamina

Revisit Self-Assessment
Prerequisites & Supplies
Prerequisites: NW101 (Introduction to Nosework) or equivalent. This class would also be appropriate for dogs needing to revisit search element foundation skills. NW101 is running now, so if you are new to Nosework then that is the appropriate class for you.
Equipment needed:
Video camera/access to YouTube upload (Gold only),
Kit:

Birch oil (or whatever odor your dog will be searching for)
scented q-tips
Metal tins with holes (see picture below of more types of "qtip containers" we'll be using).
tweezers
(optional) disposable gloves to keep odor off hands when preparing odor and hides
2nd and 3rd odors
Quake Hold aka Museum Putty, Fun-tak ,or glue dots (to stick tin to surfaces, available online or in some department stores),
tasty treats, small, that do not fall apart and easy to chew
Access to 1-2 vehicles to search
Game Boxes: plastic sandwich boxes with holes drilled in the top work great. Sandwich style containers work the best as they are not top heavy and do not move around as easy. You can get them from the Dollar Tree with a soft lid (easier to put holes in top)
https://www.target.com/p/snap-and-store-small-square-food-storage-container-5ct-25oz-up-38-up-8482/-/A-1469561
NACSW boxes:
http://www.amazon.com/gp/product/B00DIH2LUY/ref=ox_sc_imb_mini_detail?ie=UTF8&psc=1&smid=AIN8XE301PBV5
AKC boxes:
https://www.amazon.com/Pratt-PRA0031-Recycled-Corrugated-Cardboard/dp/B00E81LS1C/ref=sr_1_8? keywords=cardboard+boxes+8x10x4&qid=1568125995&s=office-products&sr=1-8
Metal outlet boxes with covers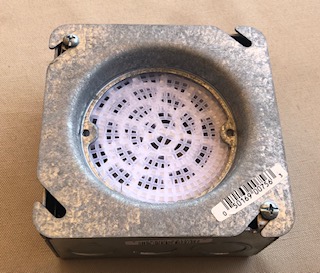 Six (6) Drain Flange and cover (alternative to pipes, cheaper and easier to use)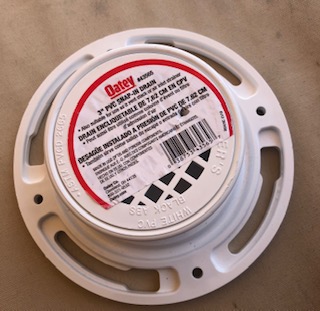 We will start using other items to hold the qtips in for hide placement other than a tin. Here is a picture of some of the items we will be using. One of my favorite items to use are the flat heat shrink wrap tubes that you can get at your local hardware store. Straws can be cut and adhered with Quake hold, cold tins and other supplies from the above nose work suppliers.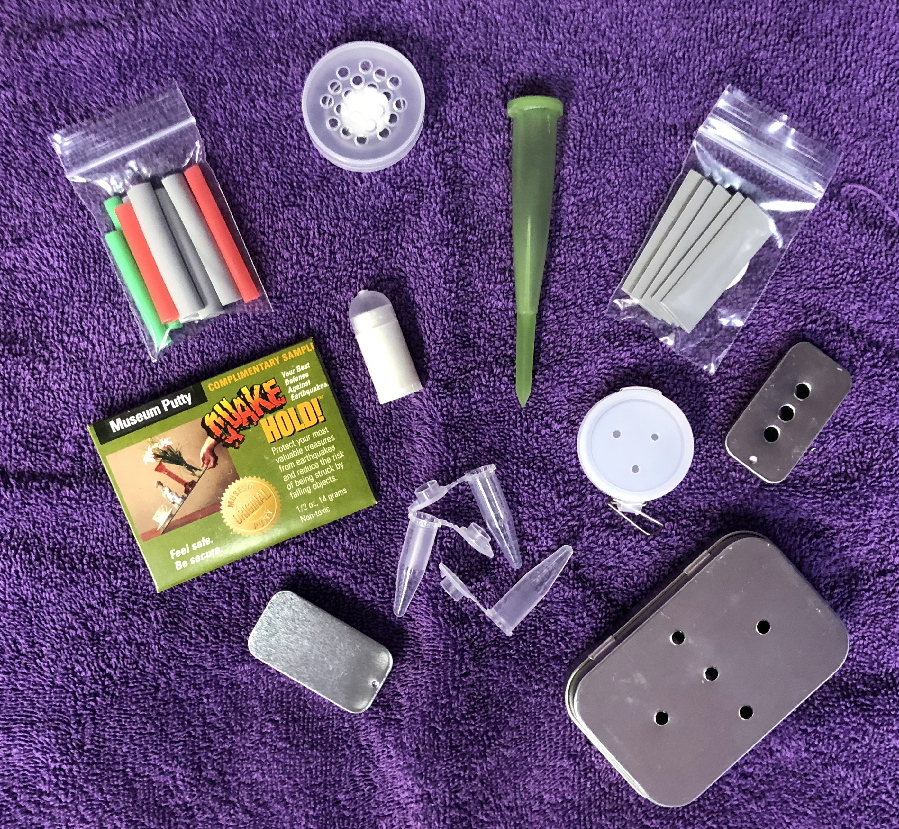 Space required: None specified. Some people have asked about working outside in winter. We will cover exteriors and vehicles. However people in previous courses have found creative ways to introduce those elements in less than ideal conditions. This class, like NW101, is ultimately about obedience to odor - just work on getting that strong for the elements that you have access to and you aren't likely to have any trouble with the others!
For those wanting to do AKC buried sand and/or water hides:
These are the "official" containers and prep. You can always use what you have, especially if you are not competing in AKC and want to do for fun.
Official AKC Buried Hides Containers:
Water and Sand hide containers: From AKC rule book: approximately 16 inches wide by 11 inches deep by 7 inches high (up to 2 inches smaller or larger is permissible), and must have latching handles. The metal grid must be approximately 16 inches wide by 10 inches deep, sized to be able to be latched into the storage tote (these can be purchased as "cooling grids" or "baking grids").
Sand – 50# bag will fill approximately 4 containers. Most home improvement stores have it for kids sand boxes OR clean fill dirt. Must be CLEAN and no additives.
Teaball for holding Qtips: Can find on Amazon and most home goods stores stock teaballs
https://smile.amazon.com/U-S-Kitchen-Supply-Stainless-Strainers/dp/B01M74M2T4/ref=sr_1_2_sspa?keywords=tea+balls&qid=1574268034&sr=8-2-spons&psc=1&spLa=ZW5jcnlwdGVkUXVhbGlmaWVyPUFIWUMyRERSNkZKVFImZW5jcnlwdGVkSWQ9QTA0NDUwMTQxWU02ODZFQ1AxRkFUJmVuY3J5cHRlZEFkSWQ9QTA5NTI4MTUxTzdIQVdMNUUwMURIJndpZGdldE5hbWU9c3BfYXRmJmFjdGlvbj1jbGlja1JlZGlyZWN0JmRvTm90TG9nQ2xpY2s9dHJ1ZQ==
Water hides:
Aquarium tubing, black, 1/4" diameter or drinking straw
Suction cup to hold tubing/straw to bottom of container: available at aquarium stores or Amazon
https://smile.amazon.com/Pawfly-20-Piece-Aquarium-Suction-Airline/dp/B01MDKYG89/ref=sr_1_2_sspa?crid=1301ZC2IH2HB9&keywords=aquarium+suction+cups&qid=1574268150&sprefix=aquarium+suction%2Caps%2C144&sr=8-2-spons&psc=1&spLa=ZW5jcnlwdGVkUXVhbGlmaWVyPUEzRUE0WUQ1OTQ3VkVOJmVuY3J5cHRlZElkPUEwNDMyNzI0MktLNEhZWlVZTlA3RiZlbmNyeXB0ZWRBZElkPUEwNzgwODgyUUNGOFRCQU1MUks5JndpZGdldE5hbWU9c3BfYXRmJmFjdGlvbj1jbGlja1JlZGlyZWN0JmRvTm90TG9nQ2xpY2s9dHJ1ZQ==
**Please note: the "official" items are not required. Just referenced in case you want to purchase or see what will be used. You can use anything you have available.**
Airflow tools (for fun and to watch odor movement) OPTIONAL
Smoke pen: https://smile.amazon.com/Regin-Smoke-Pen-Hours-S220/dp/B00788GC6S/ref=sr_1_1?keywords=smoke+pen&qid=1574268483&sr=8-1
Cirrus: https://smile.amazon.com/Cirrus-Wind-Indicator-Hunting-Alternative/dp/B079Q63MQS/ref=sr_1_1_sspa?crid=2MAIZPYH6W0WM&keywords=cirrus+wind+indicator&qid=1574268509&sprefix=cirrus+win%2Caps%2C141&sr=8-1-spons&psc=1&spLa=ZW5jcnlwdGVkUXVhbGlmaWVyPUExTkZCVVFMVTMzRURZJmVuY3J5cHRlZElkPUEwNjk3MzE0QTQxRERHMlVKMVpXJmVuY3J5cHRlZEFkSWQ9QTAxMzEyMjdUUTlYVjlHRkxORUgmd2lkZ2V0TmFtZT1zcF9hdGYmYWN0aW9uPWNsaWNrUmVkaXJlY3QmZG9Ob3RMb2dDbGljaz10cnVl
Sample Lecture
Hide Placement
In Nosework, you will hear terms Accessible and Inaccessible. These terms are often misunderstood. All too often new handlers will confuse "visible" to be "accessible" and "hidden" to be "inaccessible".
In NW1, all of your hides will be "Accessible". This means that they will be sourceable by the dog… or rather that your dog will be able to access the highest concentration of odor coming from the hide (from within 1-1.5 inches away). It doesn't actually mean that your dog will be able to get his actual mouth on the hide. The hide will be hidden from view and you will need to time your Alert call on the dog's indication that he is at source. You will NEVER see a hide at a trial.
"Inaccessible" simply means that the highest concentration of odor is not available to a dog. Picture a drawer with a hide in it. As the hide is aged, odor concentration will build up inside the drawer. This is where the concentration is the highest. Odor will also seep through the cracks to the outside of the cabinet. The concentration of odor will be less at the point of seepage than it will be inside the drawer. During the search, the dog can only get his nose to the cracks where odor is seeping and therefore cannot access the point at which odor is most highly concentration. That means that this example of a hide is Inaccessible. A hide placed 4 or 6 feet high, will be inaccessible for most dogs and moreso for small dogs! There are varying degrees of "inaccessibles". Some inaccessibles, my dog will alert just like an accessible if it's placed in a locker or cabinet. She'll source it to the closest she can get and keep her nose there. If the hide is elevated above her head she can only bracket and not be able to get at source. However, if we were to place a straw with a Qtip in the seam of the drawer, the area of highest concentration of odor will be at that seam and will be accessible by the dog. Also, that drawer seam hide will indeed be hidden from view.
Using my definition of an accessible hide, a box could be considered a lesser degree of an "inaccessible" hide. Your dog cannot get to within 1-1.5" of the source, but the entire container is hot and has odor and can be accessed on all sides so your dog can indicate anywhere on the container. But not everyone considers boxes to be inaccessible hides. Non-box containers used in NW2/3 like bags, purses, suitcases, the odor can be on the "outside" in a pocket, wheel, or handle so those would be "accessible". Other non-box containers will have enough venting so that the odor is not so "contained".
Your dog's indication in a non-container search will likely be different than in a container search. Their indication will develop over time and your job as a handler is to recognize A CHANGE OF BEHAVIOR when at source. You will learn and are ALWAYS learning to read your dog's body language so that you can identify when your dog has reached source. You won't be able to rely on seeing a tin or a straw. Your dog might nose the area strongly or perhaps touch the area with a nose or paw and then look at you, or your dog may do something else entirely. Every dog is different!
Here's a video of some dogs with different alerts.
In this class we will be dealing exclusively with accessible hides during our searches. As your dog starts to learn and you start to place hides, you need to make sure that the hides are accessible. Accessible hides build confidence because the dog builds a strong belief that he can get to source. Inaccessible hides won't be introduced until NW130 and then will be worked on extensively in NW230. It is VERY important that your hide placements at this point in your training are NOT inaccessible.
Here are some examples of accessible hides. Notice that these hides are also hidden! When placed well, these hides will also not be retrievable.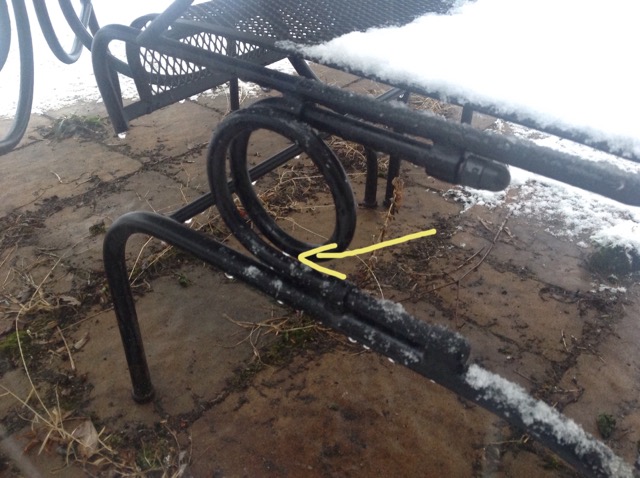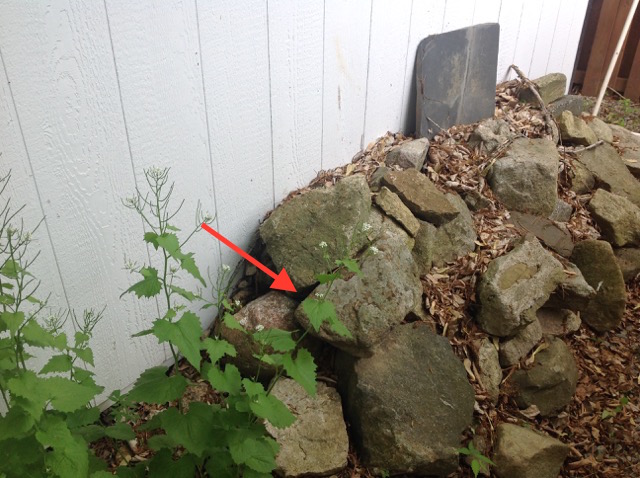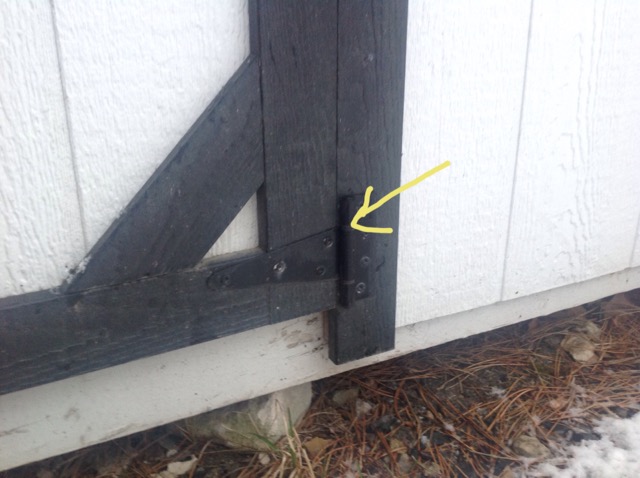 Something to note… in NW1, you can have hides up to 4 feet high. If you have a little dog, these hides will automatically be inaccessible to your dog. We will work on elevated hides in NW130.
Notice how in this picture, this hide is accessible to a small dog: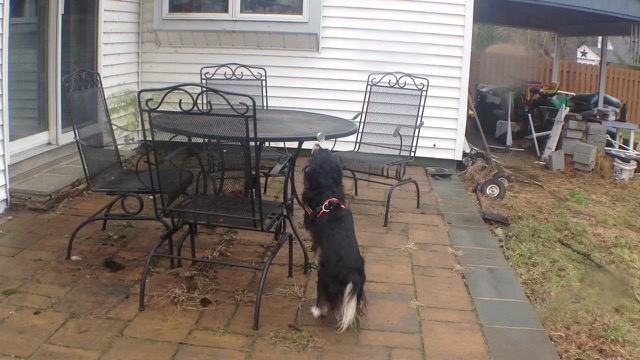 However, this hide is inaccessible to a small dog: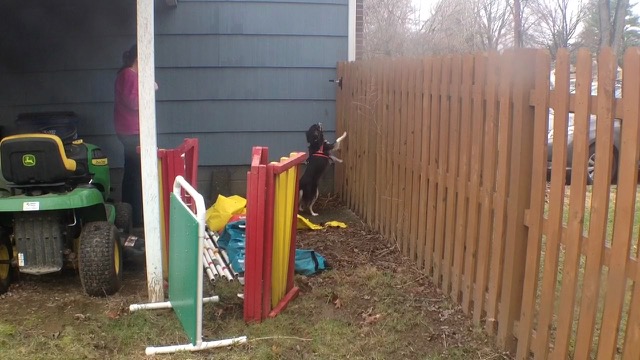 When you start training, make sure that your hide is within an elevation accessible to your dog. In the beginning, the dog should not have to put his paws up on anything to get to source. Also, make sure your dog can access all sides of the item where the hide is placed. This allows the dog to work source from all angles since airflow could affect where the scent cone is and how the dog can more easily work it to source.
HOMEWORK:
Take 5 pictures of Accessible hide locations and post on your Gold thread with a description of the hide.
When you add your images to your post, you select the Add file button and then you need to select insert to add it to the post!
Testimonials & Reviews
A sampling of what prior students have said about this course...
Before this course, my dogs were excited to search for odour and could easily do a simple box search. However, their alert behaviour was too destructive and I was unsure how to progress their skills beyond simple boxes. Both issues were addressed in this course and I am so happy with the results. My dogs can now successfully do interior and exterior searches and their alert behaviour is a beautiful nose-to-source indication without mouthiness or pawing. I would definitely recommend this course for anyone interested in working on nose work skills.
---
This is the second nosework course I have taken with Fenzi. Both courses were excellent. Material was useful, practical, detailed and thorough. I have taken other Nosework courses before. None have come anywhere near to matching the quality of the Fenzi courses and the credentials, obvious expertise and supportiveness of the course leaders. Thankyou. Lesley M
---
I love that videos of dogs of all skill levels are included. It helps emensely to see video of a dog at the same level as the one you are working, so you know what can go wrong, and what a dog just starting out looks like. The lecture material is well organized and laid out. The number of lectures and exercises was just right, not overwhelming but also enough to keep you interested and on your toes with something new.
---
Lecture notes are clear and very helpful. Video's are always very pertinent and show good examples of lecture topic.
---
I am not able to take local classes because of my work schedule, so tried the online Nosework class for the first time. It is a super value; I got more from this 6 week auditing than I did from the prior 6 months of in person classes. I feel that my dog and I are really well prepared for our first trial next month.
---
Once again, I'm amazed at how much progress can be made in only 6 weeks. This class was a great introduction to each of the the NW1 search elements.
---
The lectures were very detailed and helpful, and released at a good rate...not too fast to be overwhelming, but enough that a ton of information was crammed into the 6 weeks. The videos provided with the lectures were good examples of the exercise.
---
I was so pleased with this course. I was able to understand exactly what I needed to do, and my two Beardies picked it up quickly, thank you! Sherry M
Registration
Next session starts: December 1, 2022Registration starts: November 22, 2022Registration ends: December 15, 2022
Registration opens at 12:00noon Pacific Time.
N120M Subscriptions



Gold




Silver




Bronze

Tuition

$

260

.

00

$

130

.

00

$

65

.

00

Enrollment Limits
12
25
Unlimited
Access all course lectures and materials
✔
✔
✔
Access to discussion and homework forums
✔
✔
✔
Read all posted questions and answers
✔
✔
✔
Watch all posted videos
✔
✔
✔
Post general questions to Discussion forum
✔
✔
✖
Submit written assignments
✔
✖
✖
Post dog specific questions
✔
With video only
✖
Post videos
✔
Up to 2
✖
Receive instructor feedback on
✖
Find more details, refund policies and answers to common questions in the Help center.
Copyright © Fenzi Dog Sports Academy and individual instructors.