Course Details
Sport behaviors are too important for you to not have a precise plan for teaching them! While we can certainly "wing it" sometimes in life and with some behaviors, if you want precision and clear understanding in your dog, you have to get specific and... scientific! In this course, inspired by Amy's time at Bob Bailey's famous chicken camps, you'll learn how to tighten up your technique in shaping behaviors, to make plans that will work and not send you into the weeds, and to assess whether your plan was a good one as you review your training videos carefully! You'll learn to observe your dog more closely, to know exactly when you need to click to catch that exact behavior (and when not to!), and you'll consciously create CERs (Conditioned Emotional Responses) in your dog so that you get the emotion you want. In Bob's words, you will learn to "think, then you will plan, and then you will do!"
This class is not about teaching your dog any specific behaviors; it's about teaching you! You'll pick practice behaviors to train while you consider rate, timing, criteria raising, conditioned emotions, observation and reinforcement options. This class is for people who like to analyze what they're doing and think things through. You'll go back to the drawing board more than once!
This class is also supplemented with the lecture material from the now-retired "Learning Theory" class, which clarifies the basics (and then some!) of Operant Conditioning, Classical Conditioning (and that ever elusive Ratio!), and things beyond Skinner and Pavlov like memory and latent learning. There is a lot to read if you want to get your geek on, but it's all presented in an accessible way and you don't need a science degree to follow along. This class is definitely written for the dog trainer and dog hobbyist. The information focuses on the practical! If you struggle to keep quadrants straight or don't know when and how to flip between operant and classical in real life dog training when real things happen, this material will clear that all up for you.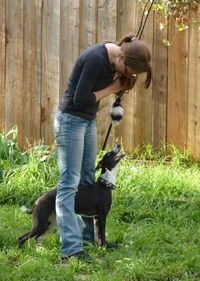 Instructor:
Amy Cook, PhD
Amy Cook, Ph.D. (she/her) has been training dogs for over 30 years, and through Full Circle Dog Training and Play Way Dogs in Oakland, CA, has been specializing in the rehabilitation of shy and fearful dogs for 20 years. She is a Certified Dog Behavior Consultant through the IAABC, a longstanding ...(Click here for full bio and to view Amy's upcoming courses)
Syllabus
Week 1: Observing your learner: Do you know what you're looking for? You can't click it if you can't see it! Also: Identifying your strengths and limitations, as well as those of your learner, so we can make realistic plans. No one is perfect!
Week 2: The Elements of Reinforcement: Timing, rate, and criteria. Do you know what each one should be and how they work together? Desired rate will constrain your criterion choice, and must be obeyed! Also: What makes a criteria shift fair? Learning what jumps are too big, too small, and why bell curves are kinder to learners.
Week 3: Click for action, feed for position: Are you thinking about what happens between the click and the reward? Using rewards to further your training goals and increase understanding in your learner. Also: Should you be doing the "101 things to do with a box" game? Rethinking "creativity" in training.
Week 4: Setting up a great training session: Do you have a clearly-defined goal? A specific, realistic plan that accounts for all the elements above? You have to think everything through before you pick up that clicker. It's planning week! We'll make them, we'll do them, we'll revise them. Just the act of thinking something through and trying it, whether you successfully train the behavior or not, will make you a much better trainer!
Week 5: ABC and adding cues: Antecedents, behavior and consequences, and when to start naming behaviors. Should you have a cue for the shaping procedure itself? Can you have more than one behavior being shaped at a time? Also: learn how luring can help you a ton with adding cues!
Week 6: Pavlov is always sitting on your shoulder: Are you creating a correct Conditioned Emotional Response (CER)? Separate from it being a by-product of training and just coming along for the ride, could you create a positive CER and recognize it on its own? What about recognizing negative ones? This week we'll create one from scratch!
Prerequisites & Supplies
I highly suggest that if you want to take a gold spot that you have some experience with shaping a dog via clicker training. You don't have to be amazingly experienced in it, but you should have tried it enough to know what its basics are and your dog should have an idea what you're doing when you try to shape something. It's ok if you struggle, but I don't suggest you try this class as your introduction to the idea of shaping behaviors in dogs. We will use shaping as a way of practicing the principles of the class!
Sample Lecture
The biggest lesson any of us can take away from chicken camp and from Bob Bailey, in particular, is that if we want to progress in an efficient manner that promotes clarity and therefore kindness to your learner, you have to have a plan that you think through ahead of time. First, you think, then you plan, then you do, and then... you review!
Planning what you will do, explicitly, minimizes some of the troubles we can get ourselves into when shaping. While I'm sure none of us do everything "wrong", and no one session will have all of the pitfalls, a good plan means minimizing what is characteristic for you, or just the garden variety mistakes we can all make by being human.
What are some of our top contenders? Well, we can get stuck on one criterion for too long, we can drop our rate of reinforcement, we can habitually click late or click objects, we can go on too long, and we can start clicking for new criteria if the dog happens to offer something we like better. Those are the biggies, but you'll find that you have some idiosyncratic ones as well. If you're not sure what they are, start with the basics and see what you get, and then we review and revise!
Think
Every good plan starts with some extended thinking. You have an end goal in sight, say a long go out with a sit at the end, or a formal obedience retrieve, but a complex behavior will require a lot of little steps individually trained, with a chaining up going on at some point. Where will you start? What is a good entry point? What behaviors do you definitely not want to see bundled in there (barking, anyone?)? So, you need to pick just one small piece for this one session.
If you don't have a formal sport goal, you still need an endpoint for a behavior in mind, and at the steps it will take to get there. The more you plan and break things into chunks, the sooner you'll get there and the easier it will be on both of you!
Think of this like the task of writing a book. You don't just start at the beginning and write through to the end, right? You make up some chapters, you arrange them in a logical sequence for now, being willing to modify, and then you take each chapter and write an outline of the points you want to hit, the path you're taking. Then, and only then, do you flesh out the document with paragraphs. Right now, you might be planning a paragraph. :)
You also have strengths and limitations to contend with! Remember your first exercise in class? Who are you, really? What training elements are difficult for you and what are straightforward? Is it better to have a prop to help you, or a lure? What about your dog? Is she a novice? A frantic offerer? Slow and watchful? You will have to write a plan for the real team, not the ideal team you know you can be one day, or that other dog you're way better at shaping because she is slow enough for you to watch, or fast enough that you keep your RoR up. You need a plan that works for you, the you you are right now, and the you you are in concert with this particular dog. There is no way any plan I could write would work for you, nor could any plan I have for my own dog fit your circumstances. Each plan is a highly individual thing.
Ok, so you have your "higher level" planning in mind and your goals and larger variables considered. Now for some practical details!
Setup
Do you have a good environment to train in? Can you see everything you need to see? Maybe you need a mirror to check in with as your dog leaves you so you can see where he's looking? Maybe you'd like to restrict all other distractions in the area so you both can concentrate? Maybe you'll need to be low, so you have a small chair to use. How about a clean floor? Does your dog start sniffing the ground when you make a mistake? It might be nice if he doesn't find extra treats. Will you need a prop? Will your other dog begin barking when he sees it's not his turn, and does your learner dog care? Take the time you need to have the right environment that will help you both concentrate and so that you can see what you need to see.
Time
How long should your session should be? Considering that you want a high RoR, short sessions really will yield a lot of repetitions for you. What you don't want is to go long enough that things can need changing and you don't notice. 30 seconds is a good place to start, with individual modifications for slow moving animals. If you find that's not a good number over time, you can revise this part of the plan, but start with a very short session to keep yourself on track with your goals. Plan to use a timer, and stick to it!
You can also make this a reinforcement based session, where you plan to do 15 reinforcements and then stop. Count out 15, and have no more available. End your session and do your review at that point, rather than when the timer goes off.
Criteria
What will you accept as correct in this first session? Let's say you were free shaping the down. You would accept a full down of course, but you also would accept any bending of any legs? Maybe any bending of any two legs at the same time, knowing they'd come in pairs anyway? Oh, but what about what the head does? Do heads go first when they lay down? That's something you should know, so plan on watching your learner enough to know them ahead of time. If you're shaping a cone target from 10 feet away, what will you accept in this first session? Be specific. You'll accept any instance of nose pointed in the general region of the cone. You'll accept any looking at the cone. You'll accept any forward movement in a straight line to the cone that is in the range between just one step to a distance of three feet. You wil identify this as having happened by looking at the nose and eyes of the stationary dog, and of the legs (or whatever tells your personal eye best) of the moving dog. If the dog happens to walk quickly and gets further than three feet before you click you will accept that, but you will not make any deviations from this criteria plan in this one session.
But there will be more sessions. Do you have a rough sketch of the pieces you need?
Reinforcement event
Once you have clicked, how will you feed? Everything that happens between the click and the swallowing of the treat is potentially going to help you toward your final goal or get in the way, so you might as well use it mindfully and have a plan for it. You may not know at the outset exactly what will work best, but you plan to do *something* and then check how it's working and modify as needed. Will you take action between the click and the treat alone or will you also add some small influence after the feeding? Will that be helpful to you? Will you need a reset cookie to get your dog back to begin again or can they repeat from where they are?
Stopping
How will you stop? Can you pick up your interaction object, or place your dog on a mat in a downstay, or give them something to chew on or somewhere to go and not have it be so abrupt that they're left hanging, staring at you? Short sessions for dog that want to keep going are hard, so what will you do to avoid trouble?
Your goal this week is to think about what you want to teach, to make a plan, and then to do it. And then to revise it and start all over.
First step? Write up a plan and post it. We'll fine tune that and make sure it's reasonable before you do it. Then you will do it and video yourself. Then you and I will evaluate whether you actually did what you planned or if you deviated, and if the plan was a good one to keep wtih or if it needs adjusting now that it's been tried. We make the adjustments, and you do it again and see what happened.
Testimonials & Reviews
A sampling of what prior students have said about this course ...
Amy clearly knows her stuff and is a clear writer. I really appreciate that she was able to keep the lectures relatively simple by putting supplemental info (that is interesting to readers with a certain level of knowledge, but can make getting the basic concepts hard for early learners) separate yet available to be digested at each student's own pace. This class has already, and I expect will continue to, improved me training with my own dog and now my parents dog (and I expect maybe even with my husband, even though I am not writing any formal plans for him :p). I am excited to take the "Art of Training", a sister class to this one to see how much more I can improve my training.
---
This is my 2nd class with Amy. I love the way she presents, explains and makes sure students understand. Her observation skills are amazing. I love her "geekyness" and her ability to break things down for clarity. Thank you!
---
Best class I've ever taken! There are so many great ideas you can start applying to your training immediately. Now I look forward to planning,videoing, and reviewing my training sessions! Anyone who thinks there is any room for improvement in their shaping skills will benefit from this class!
---
Having finally been able to be one of Amy's Golds, the experience was just as fantastic as I'd hoped. I really enjoyed the experience, and applaud Amy for designing such an interesting class. It's a shaping game changer for us, and we've been shaping for years. I really love classes that make you think.
---
This class is the one I had been waiting for. Great content (plus bonus lectures!). The lectures got me to examine the way I train my dog and got me thinking about how to make it easier and more productive for both of us. Amy has an approachable style and clearly cares about the success of her students. I may have to take this one again at silver or gold. Thanks!
---
This is my favorite class I've taken so far! I'm very numbers-oriented. I love knowing the whys and hows. This class has definitely increased the value of my training sessions. I'm better prepared to review a training session, knowing what I'm looking for, and seeing if rewarding at that place at the time made sense. Amy is wonderful at explanations and the extra lectures based on questions that arose were beneficial. Looking very forward to the art of training now in October.
Registration
There are no scheduled sessions for this class at this time. We update our schedule frequently, so please subscribe to our mailing list for notifications.
Registration opens at 10:30am Pacific Time.
FE385 Subscriptions



Gold




Silver




Bronze

Tuition

$

260

.

00

$

130

.

00

$

65

.

00

Enrollment Limits
12
25
Unlimited
Access all course lectures and materials
✔
✔
✔
Access to discussion and homework forums
✔
✔
✔
Read all posted questions and answers
✔
✔
✔
Watch all posted videos
✔
✔
✔
Post general questions to Discussion forum
✔
✔
✖
Submit written assignments
✔
✖
✖
Post dog specific questions
✔
With video only
✖
Post videos
✔
Up to 2
✖
Receive instructor feedback on
✖
Find more details, refund policies and answers to common questions in the Help center.
Copyright © Fenzi Dog Sports Academy and individual instructors.