Course Details
This course will focus on skills and strategies for succeeding at interior and containers searches in all venues. Wouldn't we all love to be more confident with containers and be incredible with our interior searches?
I personally love interiors, and like most, enter container searches with some trepidation! I want to turn Interiors into your favorite element and build more confidence on container searches.
We will cover what to embrace and how to approach/conquer some of the bugaboos with each element. We will dissect the mystery of why containers are often so difficult and how to handle different search scenarios.
We will also cover the unique AKC Scent Work program variables as they pertain to interiors and containers and run some setups following their rules and guidelines.
We will also brainstorm finding new novel interior locations and how to approach businesses for usage.
Come inside and let's learn how to rock these elements!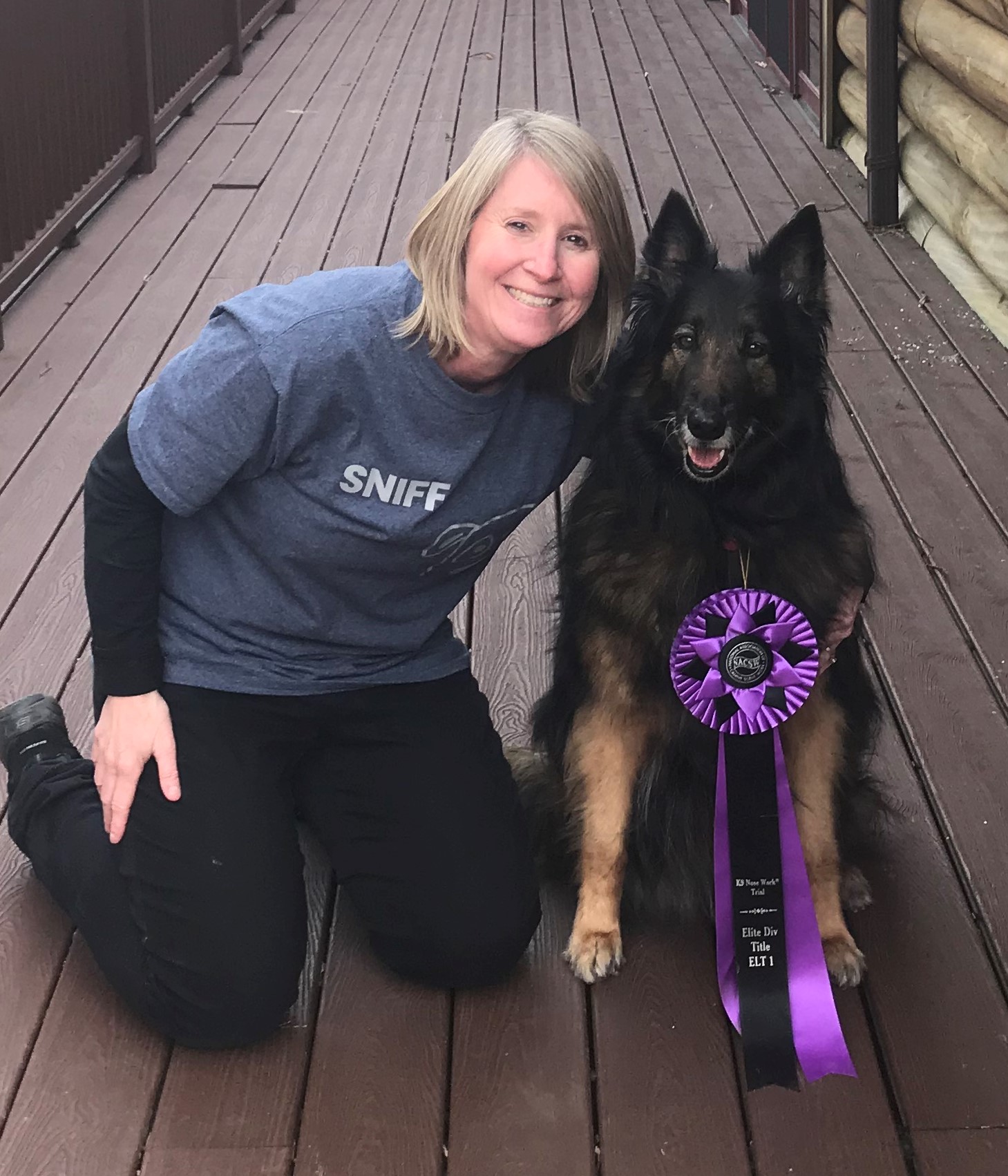 Instructor:
Julie Symons
Julie Symons (she/her) has been involved in dog sports for over 25 years. Starting with her mix, Dreyfus, in flyball, she went on to train and compete in conformation, agility, obedience, herding and tracking with her first Belgian tervuren, Rival. Rival was the first CH OTCH MACH Belgian...(Click here for full bio and to view Julie's upcoming courses)
Syllabus
Every week:
Introduce/acclimate dog to a new flooring surface
Interior and Container search exercises
Establish goal for each search
Week 1:
Supplemental: Preparing scent aids for AKC Scent Work
Consistent marking/reward mechanics
Interior considerations - the positives and challenges
Acclimating and lessening footing issues on slippery floor surfaces
Avoiding residual odor when running multiple searches in same area
Finding novel indoor search locations
Week 2:
Container considerations - the positives and challenges
Typical types of Interior hide placements
Training for small and heavy concentration of odor
Reading your scenting dog - benefits of running known hide placements
Using praise, encouragement and early marking
Adding familiar people in search areas
Week 3:
Multiple hides

What to do/where to go after finding a hide
How to handle your dog returning to found hides

Using direction to cover a search area

Challenges of non-box containers and ways to approach those searches

Remembering where your dog has searched

How not to pull your dog off a hide
Remembering found hides

Covering typical types of Container hide placements
Week 4:
Onleash or Offleash? Mechanics of and changing your mind during the search!
Turning a familiar place into a novel search area
Distractor proofing in both containers and interiors (AKC)
Introducing/acclimating dog to lesser known people in search areas
Week 5:
Position/movement proofing
Running instructor "placed" hides (blind or known)
Proofing for dog smell/drool
Going risky with calling finish (NW3) – when it actually isn't risky!
Week 6:
Going Vertical!
Training and trialing blank rooms
Approach for running blind and known hide
Other venue container setups (PSD, SDS, etc)
** Syllabus details are subject to change.
Prerequisites & Supplies
Prereqs:
NW120 or equivalent. Dogs must already be searching for odor. All levels are welcome. Homework will be appropriately assigned for the level each team is working on.
Supplies:
Basic Nose Work Supplies
Novel interior search places (ideas: post office, pet/farm stores, hardware stores, sheds, friends/family house, etc).
Access to different flooring/footing surfaces.
Unique/different containers – what have you not tried yet? Paint cans, tall plastic bins, triangle boxes, flat boxes, teeny boxes, etc.
Small cold tins for hiding distractors in interior searches.
Sample Lecture
Turning a familiar place into a novel search area!
Up to this point we have been focusing on getting to new and different places since generalization is oh so important in dog training! Dogs learn by association so if we always train in one place or familiar places, they will have limited experience to pull from when presented with a novel area. Like with any behavior, their response may not be as strong in a new, distracting area. Since they make connections with everything happening in the environment - we need to make that more clear - in that it's not THIS smell or THAT room that means NW. Those are irrelevant factors. What's relevant is our warmup, our gear, our startline, the smell of odor!
Often it's challenging to find new interiors. We may also be home bound or our dog is not able/comfortable to work away from home. If this is the case, we can change a room layout, scent dynamics, and airflow to create a "new" searching space.
It's time to get your creative juices flowing! Think how you can change a room to be "different"?
Room layout - move furniture, add new items/furniture
Airflow - open windows, doors, turn on fans.
Bring in new smells - light and blow out a candle, borrow dog hair, drool from friend's dogs and place around room, open bag of treats in room
Sound - have music or tv on
Visual - place things on floor, cover things with blankets
Lighting - add more light - make it very bright! Remove light - make it pretty dark.
Here's a video of the space before and after the changes:
Here's both of my dogs running the search:
Homework:
Even if you are able to get to new places, try this at home too! It was fun to make a familiar room look new and different!
Testimonials & Reviews
A SAMPLING OF WHAT PRIOR STUDENTS HAVE SAID ABOUT THIS CLASS...
Julie is my favorite teacher not just at FDSA but in dog training in general. I am definitely a groupie. Everything is always fun, logical, and broken down into small enough steps to be successful but what I like about her classes the most is how welcoming, warm, and engaging they are between her and the students but also among the students. Can't wait to take another class with her." Hanna F.
---
This is course is very flexible and suits the individual needs and levels of all participants. It is great to have the opportunity to tailor learning to my particular strengths and weaknesses. I learned a LOT!
---
VERY happy with Julie as an instructor. She demonstrates humor, extreme patience, enthusiasm for her students' success, and definite knowledge of the sport of nosework. This is my second class with her, and the odds are good that there will be more.
---
Julie provided lots of choices for games, training scenarios and aid for helping us progress in our abilities with interiors and containers. She assessed what we needed to increase our skills and helped us along the way. She came up with some new techniques and really went out of her way to make our blind hides as successful as possible. Her feedback is always helpful and positive. I couldn't have asked for anything more!
---
Julie rocks. She works hard to make sure the students get the most out of class. Her lectures are great and she obviously puts a lot of effort into the class. She is generous with her time.
---
This was a fabulous class. Julie deftly informed and challenged students from all different levels. Everyone learned things. I will be returning to the lectures in this class for a long time. I learned things from most of the Gold students - some with more experience than me and some with less. Julie was very encouraging while still keeping folks on task. It really was a wonderful class - I'm so glad she made it!
---
Another great class, Julie! You continue to amaze me with your commitment to your students. Your love of NW shows in everything you bring to this class- detailed feedback, hours of planning hides for your students, and my favorite discussion forum of all time! Thank you for all you have given us!
Registration
There are no scheduled sessions for this class at this time. We update our schedule frequently, so please subscribe to our mailing list for notifications.
Registration will open at 12:00noon Pacific Time
NW315 Subscriptions



Gold




Silver




Bronze

Tuition

$

260

.

00

$

130

.

00

$

65

.

00

Enrollment Limits
12
25
Unlimited
Access all course lectures and materials
✔
✔
✔
Access to discussion and homework forums
✔
✔
✔
Read all posted questions and answers
✔
✔
✔
Watch all posted videos
✔
✔
✔
Post general questions to Discussion forum
✔
✔
✖
Submit written assignments
✔
✖
✖
Post dog specific questions
✔
With video only
✖
Post videos
✔
Up to 2
✖
Receive instructor feedback on
✖
Find more details, refund policies and answers to common questions in the Help center.
Copyright © Fenzi Dog Sports Academy and individual instructors.