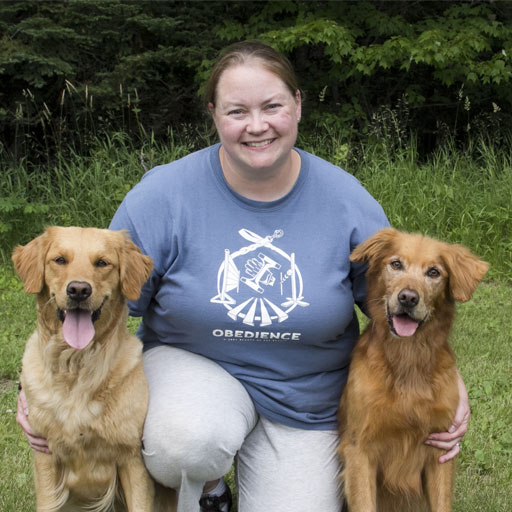 Nicole Wiebusch started competing in dog sports as a teenager in the 90's and quickly became addicted to the sport of obedience. In 2001, she acquired a golden retriever named Tucker who taught her that traditional methods weren't the best way to a happy confident dog. This realization started her on the journey to positive reinforcement training. In 2008, Nicole started her own dog training business, Golden Paws Dog Training LLC, and teaches both pet owners and dog sports people dog-friendly training methods. She started taking classes with Fenzi Dog Sports Academy in 2013 and actively competes in a variety of performance events with her three golden retrievers. Nicole's golden retriever Toby UDX2 OM3 RAE was retired due to physical problems just 30 points shy of finishing his OTCH. Her current competition dog Strive has earned her UD and is working on her UDX. Toby and Strive both have multiple High in Trials in Obedience and High Combineds in both Obedience and Rally. Nicole's dogs also hold advanced Agility and Rally titles, as well as hunting, dock diving, and TEAM titles.
In addition to operating Golden Paws Dog Training, Nicole is an instructor for FDSA and the Pet Professionals Program and a TEAM judge. She has earned both the Obedience/Rally/Freestyle Trainer's Certificate and the Sports Foundation Trainer's Certificate from FDSA. She is also a Canine Good Citizen and Trick Dog evaluator, a Professional Member of the APDT, and is a field dog trainer for a service dog organization.
Many skills in rally or obedience can be clarified for the dogs very quickly using props. We can begin building the correct habits early on in the training so that the e...
April 1, 2020
Imagine this… It's your first time in the Novice Rally ring with your dog. You walk into the ring and you feel confident — you just know that both you and your dog are fully ...
April 1, 2020
Have a question about an upcoming course taught by Nicole? Not sure if your dog is suitable for a specific class? We welcome you to contact instructors by email to make sure the course is suitable for you and your dog.
FDSA is excited to welcome Nicole as a guest instructor for June 2019.