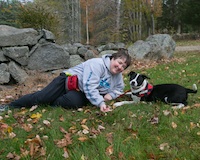 Certified Performance Enhancement Specialist, NASM (National Academy of Sports Medicine)
Certified Strength and Conditioning Specialist/Coach, NSCA (National Strength & Conditioning Association)
Certified Corrective Exercise Specialist, NASM (National Academy of Sports Medicine)
Certified Posture Specialist, NPI (National Posture Institute)
Certified Performance Enhancement Specialist, NASM (National Academy of Sports Medicine)
Certified Personal Trainer, NESTA and NASM (National Academy of Sports Medicine)
Certified K9 FitClub Trainer and White Mountain K9 Agility Instructor
Certified Master's Level Ice Hockey Coach, USA Hockey & United States Olympic Committee
Coach Kay currently resides in Barrington, New Hampshire with her three rescue dogs and three rescue cats. Bailey the beagle is 13yrs old, Taffy the beagle/jack russell is 7yrs old and Comet the jack Russell/cattle dog. Karen is an active competitor in both agility and barn hunt with both Comet and Taffy.
Coach Kay is a 1985 graduate of Providence College where she was a NCAA Division I scholarship student-athlete in the sport of ice hockey. Upon graduation, she was employed as a certified athletic trainer in a private physical therapy clinic. She then went on to a career in medical sales for a Fortune 500 company and continued to pursue a full time coaching position at the collegiate level. In 1992, she was named the head coach for the United States National Team and to that same position at the University of New Hampshire. Coach Kay was the first female head coach for any country to coach in the World Championships. She remained as head coach at UNH from 1992-2002 and coached in the United States National and Olympic Team Programs from 1992-1998. She was elected to the Massachusetts Ice Hockey Hall of Fame in 2012 and won the Bob Johnson Medallion Award from USA Hockey and the United States Olympic Committee for her contributions to developing the sport of women's ice hockey on an international level. In January of 2015, she was awarded the prestigious Founder's Award by the National College Hockey Coaches Association.
Karen became the Director of Athletic Training and Sports Performance at a seacoast sports medicine practice from 1993-2014. Most recently, she started her own business in November of 2014 called Karen Kay Corrective Exercise. She wanted the freedom to bring her skills to the arena of agility and other canine sports.
"Unfortunately, my playing career was cut short due to injuries and multiple surgeries. I always had a vested interest in both preventing injuries in my athletes and finding the latest and best ways to train them away from the ice. My experience along the way has inspired me to specialize in Corrective Exercise. I enjoy the challenge of evaluating each individual and identifying imbalances and asymmetries that may be contributing to their injuries and or their training for their sport or activity. I have absolutely fallen in love with the sport of dog agility and with the teamwork it takes. I've also observed the desire people have to be able to develop their relationship with their dog and to not allow their own physical limitations to get in the way of that enjoyment. I am looking forward to bringing my expertise to the Fenzi Dog Sports Academy students so that they can continue to thrive as handlers in their chosen dog sport(s)."