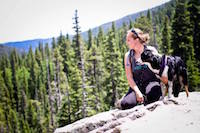 Sarah has been working with dogs in the realms of performance training and behavior solutions for over a decade. She currently operates online through her business, The Cognitive Canine. Her special area of interest has long been helping dog owners address behavioral concerns in their competition dogs. Reactivity, anxiety, aggression, and problems with arousal are all major concerns for many competitors, and there is nothing Sarah loves more than helping her clients overcome these issues and succeed in their chosen arena. She has competed in agility and obedience for the past 15 years with her border collies.
Sarah's personal website: www.thecognitivecanine.com
Based on Sarah's concept, The Four Steps to Behavioral Wellness, this course digs deeper into what our dogs really need. The Four Steps are: exercise, enrichment, nutrition, a...
October 1, 2019
Have a question about an upcoming course taught by Sarah? Not sure if your dog is suitable for a specific class? We welcome you to contact instructors by email to make sure the course is suitable for you and your dog.
FDSA is thrilled to welcome Sarah Stremming as a new instructor beginning February, 2017.