Instructor:
Course Details
Ever wonder how trainers get their dogs to race to the platform, fast and all 4 feet, with only a verbal cue?
Instead, you are resigned to pointing, stepping towards, commanding zillions of times, as your dog goes one step, stops to look at you, detours, sniffs, all before walking at the speed of death to the prop, whether that is a dog bed for house manners privileges or that pivoting platform for future fancy heeling plans.
In this workshop, I'm going to show you simple steps, in a training plan meant to be one step every day that will have a willing, confident, partner by the end of a week. You are going to learn how to shape dogs to go to a prop, one of the first steps towards the journey of learning a shaping language for both you and your dog. We're going to get a bombproof "go to the prop", regardless of handler body language, where the treats are, then a bit of a stay on it, then attach a cue to the whole behavior chain!
I would love to have new handler/dog teams who find shaping a little daunting, pet owners who want to explore some training with their companions, dog trainers who train others and want more tools for their tool box taking this workshop.
---
Note: This is a repeat workshop that has run previously under a different course number. Please review your workshop library to make sure this would not be a duplicate purchase.
---
Watch the Trailer
---
Lecture Publish Date: Sunday Jan 15th
Video Submissions Due Date: Sunday Jan 22nd @ 12pm noon PT
Feedback & Questions Video Publish Date: Wednesday Jan 25th
---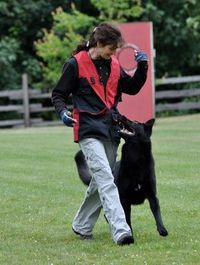 Instructor:
Shade Whitesel
Shade Whitesel (she/her) has been training and competing in dog sports since she was a kid. Always interested in how dogs learn, she has successfully competed in IPO/schutzhund, AKC obedience and French Ring. Her retired dog, Reiki vom Aegis, IPO 3, FH 1, French Ring 1, CDX, was 5th at the...(Click here for full bio and to view Shade's upcoming courses)