Course Details
What is the CGC program? CGC stands for Canine Good Citizen and refers to a dog and handler team who have gone through a testing program, passed and received their certificate. More specifically it's a training, testing & certificate program that was developed by the American Kennel Club to promote responsible dog ownership. Its goal is to promote relationship building and bonding between human owners and their dogs though training and in the process, help create well mannered dogs who can easily navigate the human world they need to live in. It started as one certificate but has quickly blossomed into multiple advanced certificate offerings.

By building a relationship together through basic foundation training we humans set ourselves and our dogs up to be good neighbours to those we come into contact with. With basic training you and your dog can and will have the potential to be welcomed wherever you might want to go. When good manners are in place it sets the stage and continues to open the door for acceptance of dogs into more aspects of our everyday lives, enabling more freedoms to take our dogs "along for the ride".

Whether its at the local baseball game, sitting out on a patio for lunch or staying at a hotel, you'll know your dog will have gained the skills through the CGC program to help them become a welcomed guest and community participant. What's your dog's public face?

IN THIS WORKSHOP WE'LL LOOK AT:
What the program entails

Who can participate (dogs & humans)

Why it's a beneficial program for everyone, including our dogs:
Condo rentals made easier

Pre-requisite for some therapy dog programs

Discounts on home insurance
What you need to do to prepare for your CGC test
The 10 Basic Skills

Equipment Needed

Responsible Dog Ownership Pledge
This is Part 1 of a 2 Part Workshop Series.
GOLD SPOT STUDENTS WILL HAVE THE ABILITY TO:
- Submit a 3 minute video & receive feedback on any 3 of the 10 skills they are having specific difficulty with.

- PLEASE NOTE: Unfortunately, dog-dog reactivity or interaction problems, as well as dog-human reactivity issues, CAN NOT be addressed through this workshop.
---
Lecture Publish Date: Sunday October 31st
Video Submissions Due Date: Sunday November 7th @ 12pm noon PT
Feedback & Questions Video Publish Date: Wednesday November 10th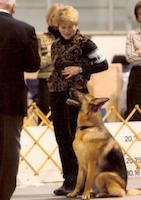 Instructor:
Heather Lawson
Heather Lawson (she/her) is a Certified Professional Dog Trainer - Knowledge Skills Assessed (CPDT-KSA) and also a Karen Pryor Academy Certified Training Partner (KPA-CTP), a CGN evaluator and a free-style judge. She has been training dogs and their humans for more that 20 years after deciding that...(Click here for full bio and to view Heather's upcoming courses)