Course Details
Want crisp right turns and a dog that knows exactly how to speed up to stay in position when you turn? Want that drive into heel and steady head position?
Instead, you've got a dog that overshoots, that goes wide, that doesn't speed up and eventually catches up some steps after you make your about turn.
Let's change that! Let's figure out how to teach your dog to drive into heel position and stay in heel no matter how quick you turn. Let's teach some games to make right turns fun, yet precise!
We'll be covering hind end awareness, offered heel position, reinforcement procedures/marker cues and other techniques and skills to aid you and your dog to get speedy precise right turns.
Lecture Publish Date: Sunday March 28
Video Submissions Due Date: Sunday Apr 4 @ 12pm noon PT
Feedback & Questions Video Publish Date: Wednesday Apr 7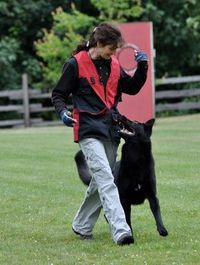 Instructor:
Shade Whitesel
Shade Whitesel (she/her) has been training and competing in dog sports since she was a kid. Always interested in how dogs learn, she has successfully competed in IPO/schutzhund, AKC obedience and French Ring. Her retired dog, Reiki vom Aegis, IPO 3, FH 1, French Ring 1, CDX, was 5th at the...(Click here for full bio and to view Shade's upcoming courses)