Course Details
Happy Holds are the focus of this workshop! We'll be teaching our dogs to hold objects with their mouths. This behavior is a great first step at training your competition obedience retrieve or it simply makes an adorable photo!
We will start with introducing the object to our dog, add duration to the hold behavior and then work to generalize the hold to a variety of object.
Any dog is suitable for this workshop, however, it might be better to wait on teaching a hold to a puppy that is actively teething.
This is a repeat workshop that has run previously.
Watch the Trailer
Lecture Publish Date: Sunday August 23
Video Submissions Due Date: Sunday August 30 @ 12pm noon PT
Feedback & Questions Video Publish Date: Wednesday September 2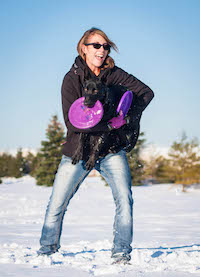 Instructor:
Sara Brueske
Sara Brueske (she/her) has been training dogs for over 15 years, and has experienced a large variety of breeds and sports during that time. Having graduated as a Karen Pryor Academy Certified Training Partner ... (click here for full bio including Sara's upcoming courses)