Course Details
Want to build your distance control and connection with your dog while participating in a great new sport? Or maybe you've always been fascinated by herding, but don't have sheep. Check out Treibball!
Sometimes called "ball herding" or "urban herding," treibball is a cross between billiards and soccer that you play with your dog. It's perfect for a dog who is retired from other sports, dogs new to the sports world, or reactive dogs (since most venues restrict access to the competition field).
We'll cover the basic rules of the game and the foundation skills to get you started. Come learn about this relatively new dog sport!
Note: This is a repeat workshop that also ran in June 2019.
Watch the Trailer
Lecture Publish Date: Sunday August 2
Video Submissions Due Date: Sunday August 9 @ 12pm noon PT
Feedback & Questions Video Publish Date: Wednesday August 12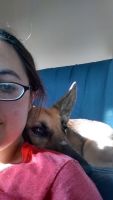 Instructor:
Melissa Breau
Melissa (she/her) is FDSA's resident marketing geek. She teaches two classes here at FDSA: Marketing for Pet Professionals and Building a Wordpress Website.