Course Details
How good is your website really? In this workshop, we'll look at best practices anyone can implement on any site to help boost performance, including copy (the words on your site), images (and how things like sight lines play into your website), navigability, and the key pieces of information it's critical to have on your homepage.
*All tips covered will be platform-agnostic. That means it doesn't matter if you're on wordpress, squarespace, wix, weebly, or something else.
Class Syllabus
In this workshop we'll cover:
Tips that can help you write in a way that will catch a potential client's attention, including features vs. benefits, before and afters, and a helpful formula for writing that sells

The mistakes dog trainers usually make (especially on their About page)

How photographs play into your website design (and why which photos you use really does matter)

Understanding sight lines and how they can help convince people to buy

What information you NEED to have on your homepage
… and much more!
Watch the trailer:
---
---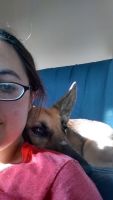 Instructor:
Melissa Breau
Melissa (she/her) is FDSA's resident marketing geek. She teaches two classes here at FDSA: Marketing for Pet Professionals and Building a Wordpress Website.