Course Details
Trying to figure out what to train when it comes to Nosework is WAY more than just throwing out a bunch of hides. Why? Because WE aren't actually the ones doing most of the training, the odor is! How we determine what to train and how to train it is going to depend on the most important player... your DOG! We not only need to know WHAT to train but we need to know HOW to adapt our training according to our dog's personalities. Each of our dogs is an individual... if we don't train them like individuals, we will never help them to be the most they can be.
This workshop will help you to figure out how to target skills, adapt searches to your dog's temperament and then if this go south, you will have a way to stop and change things up!
The key to Nosework is not to set hides like the kitchen sink! We need TARGETED TRAINING!
In this workshop, you will plan and execute a training session... a TARGETED TRAINING session.... so that you can learn how to see results more quickly!
NOTE: In THIS workshop, you will have 2 minutes for your video time rather than 90 seconds
Watch the trailer:
Lecture Publish Date: Sunday November 10
Video Submissions Due Date: Sunday November 17 @ 12pm noon PT
Feedback & Questions Video Publish Date: Wednesday November 20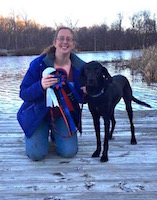 Instructor:
Stacy Barnett
Stacy Barnett is a successful nosework competitor, being one of only a handful of teams titled through the Summit Level (SMT) in NACSW with her dog, Judd. In fact, she and Judd have earned THREE Summit titles (SMTx3)! Stacy is also an international clinician and AKC scent work judge.