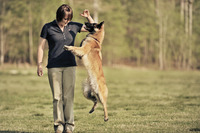 Hannah Branigan (she/her) has been training dogs and teaching people for more than 10 years. She is a Certified Professional Dog Trainer (CPDT-KA) and a Karen Pryor Academy Certified Training Partner (KPA-CTP). Hannah is the owner of Wonderpups, LLC, and teaches workshops nationwide, as well as conducting behavior consultations, teaching private lessons, and conducting group classes on pet manners, rally, and competition obedience. She has titled her own dogs in conformation, obedience, rally, schutzhund, and agility.
Pronouns: Hannah goes by she/her.
Self-Study Classes - available for lecture purchases only.
Do you struggle to balance high energy, high intensity behaviors in your sport with calm behavior in every day life? If so, this class may be for you. This class will c...
Hannah Branigan
(Faculty)
Fronts and finishes are found in every level of obedience and rally, and the points really start adding up! This class is intended for both students teaching fr...
Hannah Branigan
(Faculty)
Hannah takes you through the steps of building the behavior chains we'll need in the obedience ring so the dog and handler are confident in their tasks. She always gives positive feedback, gives helpful comments either to correct/improve performance and how to progress to the next step.
---
What an absolutely fantastic series of classes. Hannah provides clear, constructive feedback in a manner that remains positive for the dog AND handler. She encourages you every step of the way, as it is step by step as she has broken complex exercises into small pieces. This approach builds confidence in both members of the team and takes a lot of the mystery out of the open and utility exercises. Heather L.
---
I can't believe the difference in my dog. He has learned skills so quickly and so well compared to what I have learned in live classes. I love my live classes but I have to say that the way that Hannah splits these skills down is amazing. My dog went from dumbbell aversion in Skillbuilding 1 to having a nearly complete retrieve over high jump and starting to retrieve with scent discrimination in Skillbuilding 3! Unbelievable. I recommend these classes highly!! Stacy B.
---
Skill Building 3 was my very first experience taking an FDSA class at the gold level. Hannah's lecture materials and videos were excellent and easy to follow. Her feedback was always encouraging and constructive, and if I had follow-up questions, she made every effort to answer them clearly. Her expansive wealth of knowledge and experience allows her to make individualized suggestions for each team when necessary. Hannah, thank you for what was a valuable, enjoyable, and simply great class!!! Clarissa B. CPDT-KA
---
Hannah has changed my entire outlook on the approach to Stays and given me the tools for us to be successful. She is brilliant at breaking down each piece and providing expert feedback in an encouraging and supportive way. I highly recommend it regardless of where you are in your training! Ana C.
---
Both your lecture material and companion videos are extraordinarily clear — a true pleasure to work from! I especially loved your "drone" footwork videos — they were extremely helpful — not exactly what I had been doing previously. I have come to appreciate how they keep me out of my dog's way while at the same time providing a clear cue of my next move. Thanks Hannah!
---
Hannah is an excellent instructor and creates easy to understand lecture materials and videos, and really supports her students through the process of learning heeling. Some weeks it was very hard to hit that submit button for my videos, but she always made me feel great about them afterwards, while still giving me precise things to work on for the next video. Thanks!
---
Hannah is clear, concise, consistent and skilled at supporting students in a way that one never feels bad about their progress. I love the classes at FDSA and particularly love Hannah's classes.