Instructor: Grisha Stewart
Course Details
"The way the course is run with video and written explanation means it is great for new or experienced owners. It is also suitable for dog trainers that want to join with a puppy. The format allows flexibility for the student to fit it in around life, and join a great community of trainers. The content has really focused on important life skills and has introduced new exercises each week. The delivery is in a very easy to read format, and being able to upload videos is really great for self development. Grisha and the TAs are very helpful and supportive and have done an excellent job in sharing their knowledge. I would highly recommend this course for any level of handler." - Katey A
There are many things that puppy parents, trainers, breeders, groomers, and vets can do to prepare puppies for life with humans. Empowered, choice-based training is the core of humane care in zoos, but this kind of care hasn't quite made it into our homes. By giving puppies the opportunity to learn that their behavior is effective, we can make them more resilient and able to handle the crazy human world.
"Research demonstrates that to the greatest extent possible, all animals should be empowered to use their behavior to control significant events in their lives" - Susan Friedman, Ph.D.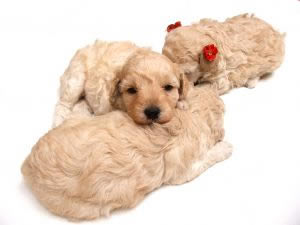 Puppy classes were a big leap forward in the socialization of our dogs, but too much time is still spent on 'obedience.' This course will cover essential skills for puppies and their human families as we socialize and train the puppies to choose to play our silly games like grooming, vet care, etc. Includes BAT for puppies, empowered counter-conditioning techniques, and clicker training, among other things. The dog-geek discussions are primarily meant for professional dog trainers, but the how-to portion will be accessible to 'regular' puppy parents.
Gold level students: you should either have a puppy of your own or have a client/friend/shelter with a puppy that you have access to multiple times per week. If the puppy is not yours, the puppy's owner should be willing to participate in homework and lifestyle changes during the 6 weeks of this course. The puppy should ideally be 6-20 weeks old at the beginning of the course to really get the most out of it, but older puppies, up through 10 months, will be accepted for a working spot.

Gold level participants can earn 21 CPDT CEUs or 20 IAABC CEUs by fully participating. Other levels will not be able to earn CEUs.
This course will be taught by Grisha Stewart, MA, CPDT-KA, KPACTP and the following Teaching Assistants (TAs) who will help Grisha give feedback on videos and answer questions. Both have been Team Leaders at Grisha's 5-day BAT Instructor Courses and are experienced puppy class instructors. Click here for short bios.
Carly Loyer, CBATI (Ph.D. Student, trainer in Washington) [main TA]
Kristin Burke, CBATI, CPDT-KA (trainer in California) [as-needed TA]