Course Details
Have you ever wanted to try gun dog sports with your dog or have a new puppy, but didn't know how to get started? Now you can learn how by using games, shaping, and play to explore necessary foundation behaviors encompassing all types of gun dog work, hunt tests, and real world versatile hunting companions.
We'll cover in detail how to teach the basic foundation skill sets, gain control over your environment, and safely introduce your dog to gunshots, birds, terrain, cover, and water. You will learn how to desensitize an overly aroused dog and to bring up desire in a soft one… and you will get the pleasure of watching your dog learn to harness and perfect his natural abilities.
We will use videos and lecture to demonstrate various parts of the learning and generalization phases using dog and handler teams with differing styles, strengths, and focus areas. This is a class for any age dog or puppy that shares foundation skills you can teach in your living room and then transfer to the field.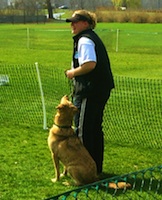 Instructor:
Cassia Turcotte
Cassia Turcotte has been involved with the dog training world for nearly two decades and has been training professionally since 1999. With a background in private behavior modification, she has also worked as a kennel manager, volunteer shelter staff, veterinary technician