Course Details
This workshop will teach your dog what we refer to as a mark. Your dog will learn a cue for looking straight ahead for a task to do, whether that is looking ahead for an item to retrieve such as a glove, or looking ahead to find a target such as their go out spot.
We will also discuss how to teach the idea that they are always to mark in a straight line and ignore the other available choices out there!

This concept is commonly used in obedience for the directed retrieve exercise where the dog has to retrieve the correct glove out of 3, and the directed jumping exercise where the dog is sent to run in a straight line between 2 jumps. In TEAM obedience, this skill is needed for a level 2 exercise!

Note, this workshop is only covering the marking portion of those exercises. We will not be discussing how to teach your dog to retrieve the glove or how to teach your dog to send away on a go out.
Note: This is a repeat workshop that has run previously under a different course number. Please review your workshop library to make sure this would not be a duplicate purchase.
Watch the trailer
---
Lecture Publish Date: Sunday July 18
Video Submissions Due Date: Sunday July 25 @ 12pm noon PT
Feedback & Questions Video Publish Date: Wednesday July 28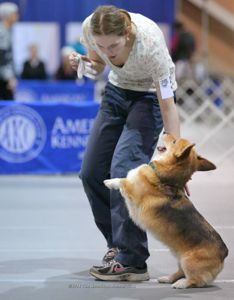 Instructor:
Laura Waudby
Laura Waudby (she/her) trains and competes in obedience, rally, agility, and dabbles in disc dog and trick training. She was halfway to her OTCH with her UDX corgi, Lance, before his early retirement. She also has championship titles in USDAA and UKI. By day...(Click here for full bio and to view Laura's upcoming courses)