Course Details
Do you have a dog who tends to find hides by accidentally bumping into them? Does your dog tend to check objects verses working the air for scent? Is your dog better searching an area with LOTS of hides versus a single hide?
Often we get too involved with over directing our dog around a search area. We can also get multiple hide happy and forget about the importance of finding one hide in a large area. Quite honestly it is easier to find those 8 hides versus those 1-2 hides in a large search area!
We can let the natural wind direction do the heavy lifting for us! Our dogs do this naturally, but not necessarily for essential odor scent plumes. We need to set up these more natural scent environments for our canine olfactory specialists!
By setting up air scenting drills, we teach the dog to work the scent plume to source and avoid falling into a history of "object" searching. They can learn to rely on their natural air scenting ability to direct them where to go. This can be very hard for dogs who tend to work small areas, are handler focused and depend on us to cover an area.
It's also the quickest way to train elevated hides!The longer we set hides on predictable objects, they default to using past memory experiences to check for hides and don't learn to check the air for information. We want to teach our dogs to work the air for odor and not just check objects.
Start this NOW with your experienced and young dogs !! Getting our young dogs used to working areas void of objects is as important as working cluttered areas!
The drills we will cover are:
- Working down wind of odor so the scent plume is blowing into your face.
- Working perpendicular to the scent plume so your dog intercepts odor at a 90 degree angle.
- Working up wind of odor so that the wind is at your back.
- Ground hides.
- Open Areas void of objects
- How to play indoors!
You will need a large outdoor area that your dog will comfortably work, ideally OFF leash but you can also work ON leash. Tennis courts and secure parks are ideal for this setup! For working indoors, you will need a floor/table fan.
Supplies needed: Large tin or teaball and lots of scented qtips!
---
Lecture Publish Date: Sunday May 16
Video Submissions Due Date: Sunday May 23 @ 12pm noon PT
Feedback & Questions Video Publish Date: Wednesday May 26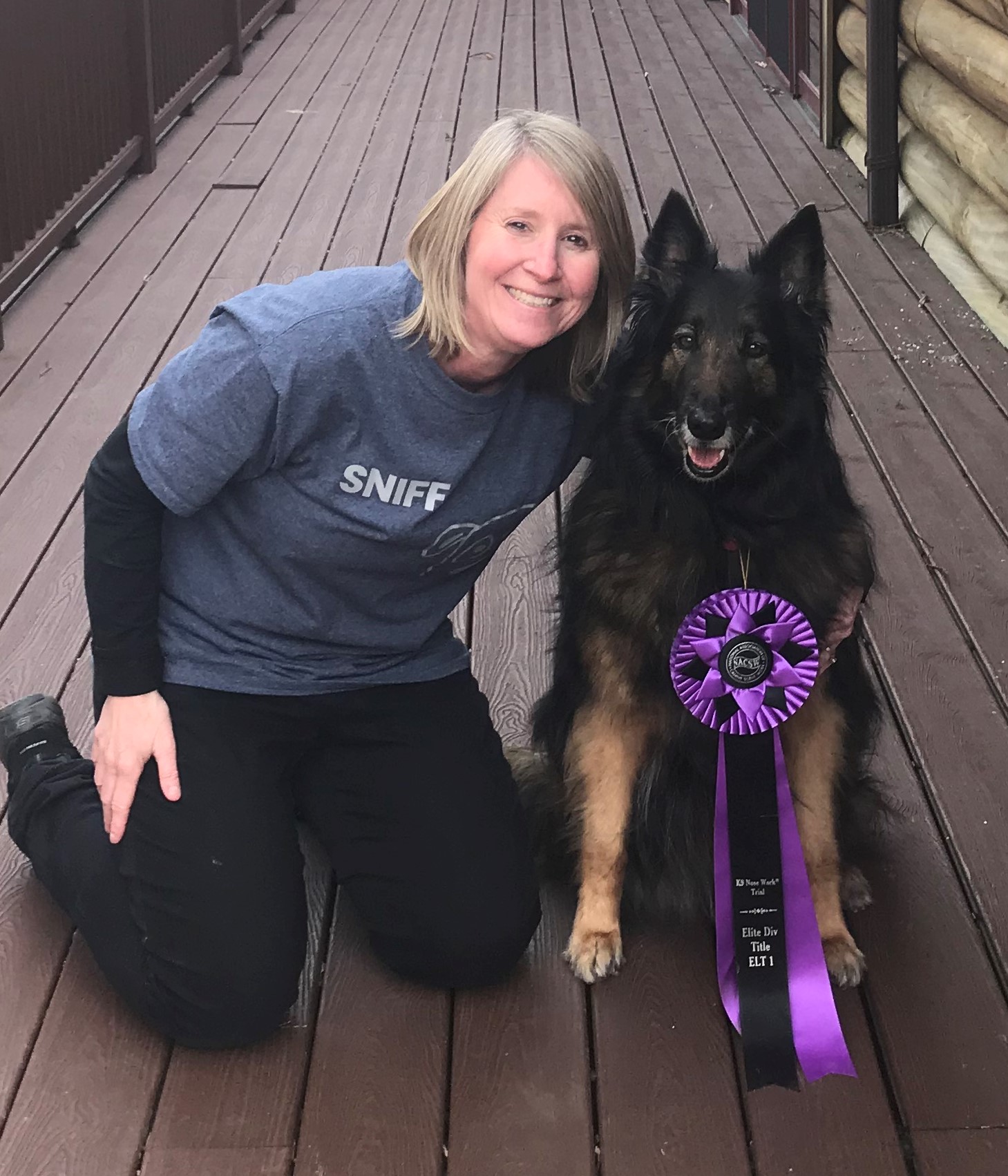 Instructor:
Julie Symons
Julie Symons (she/her) has been involved in dog sports for over 25 years. Starting with her mix, Dreyfus, in flyball, she went on to train and compete in conformation, agility, obedience, herding and tracking with her first Belgian tervuren, Rival. Rival was the first CH OTCH MACH Belgian...(Click here for full bio and to view Julie's upcoming courses)