Course Details
Imagine walking into the competition ring and, from start to finish, your dog performs like clockwork. Every behavior is perfect and one skill flows into the next seamlessly. As the performance continues your dog's enthusiasm increases, yet he remains responsive and thoughtful.
You've taught the individual behaviors and skills. Your dog is ready for the competition ring. Or is he? He can do an entire run thru perfectly as long as there are cookies and toys at some point. But without external reinforcers, the performance begins to fall apart. How do you maintain focus and engagement when cookies and toys are not an option?
In this workshop, you'll learn Deb's clockwork method for teaching with fluency and flow while building behavior chains. It's an active dynamic approach to moving away from classic external reinforcers, yet keeping enthusiastic and precise performances.
The exercises in this workshop will cover testing fluency, increasing stimulus control, and building bridge skills to transition between exercises. No matter what your dog sport, your performances will benefit from combining behaviors into chains. Even if you're not close to going into the performance ring yet, clockwork skills can help you get there.
Deb will give you a week-long step by step day by day road map for teaching clockwork skills. You'll be amazed at how much this approach will improve your dog's attitude and performances!
Watch the Trailer
Lecture Publish Date: Sunday November 1
Video Submissions Due Date: Sunday Nov 8 @ 12pm noon PT
Feedback & Questions Video Publish Date: Wednesday November 11
---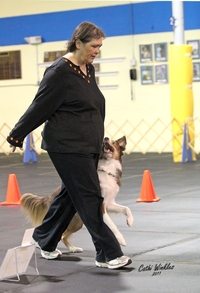 Instructor:
Deborah Jones
Deborah Jones, Ph.D. (she/her) is a psychologist who specializes in learning theory and social behavior. She taught a variety of psychology courses at Kent State University for the past 20 years. Deb has been training dogs for performance events for the past 25 years and was an early...(Click here for full bio and to view Deb's upcoming courses)