Course Details
Going into the ring without any food or toys is something that is not trained until the day of the trial with most agility and obedience/rally dogs. This workshop will show you the steps to teach your dog to work confidently and enthusiastically in the ring without reinforcements. The dogs that understand the routine are much better prepared for competition. When you don't prepare your dog for leaving rewards outside of the ring, it can create confusion and negative emotions that are paired with the trial environment.
If you want your dog to trial like you train, then join me for this workshop!!
This is a previously run workshop. Your purchase will provide access to both the original presentation recording and the student feedback recording. There is no opportunity to submit video or ask questions.
---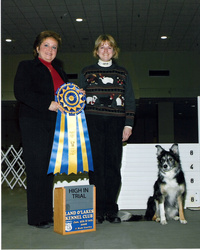 Instructor:
Nancy Gagliardi Little
Nancy Gagliardi Little (she/her) has been training dogs since the early 1980s, when she put an OTCH on her Novice A dog, a Labrador retriever. Since then she has put many advanced obedience titles on her dogs, including 4 AKC OTCH titles, 6 UD titles, 3 UDX titles, and multiple...(Click here for full bio and to view Nancy's upcoming courses)