Course Details
Do you have a lot of dogs? Do you want to be able to have your dogs calmly wait their turn while you work another? What about creating an efficient game of multiple-dog fetch? This is the workshop for you!
We will begin with teaching a reliable perch stay and then add the distraction of another dog working. From there, we will build this new game to involve toy play as well.
Working spots should have at least two dogs. An elevated perch is needed for this class.
Watch the Trailer
Lecture Publish Date: Sunday October 4
Video Submissions Due Date: Sunday Oct. 11 @ 12pm noon PT
Feedback & Questions Video Publish Date: Wednesday October 14
---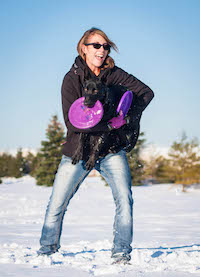 Instructor:
Sara Brueske
Sara Brueske (she/her) has been training dogs for over 15 years, and has experienced a large variety of breeds and sports during that time. Having graduated as a Karen Pryor Academy Certified Training Partner ... (click here for full bio including Sara's upcoming courses)