Course Details
During this workshop we will break down each step in teaching a confident fun drop on recall for the Open obedience ring. We will start with teaching the dogs to down from a stand and work our way up to having the dogs down out of motion. This workshop will not cover the front part of the Drop on Recall exercise so it's recommended that the dog has the skills to perform a front to criteria, the handler uses a platform or a PVC box for the front, or the exercise is broken off before the dog fronts.
The skills taught in this class will be the foundation for the moving down in the upper levels of Rally as well, so this workshop will be helpful for either the advanced obedience or advanced rally team.
We will cover the following:
Teaching a down from a stand with handler in front
Teaching a down from a stand at distance
Teaching a down out of motion
Placement of reward choices for the drop on recall
Different ways to teach the moving down
How to handle anticipation
Problem solving
This workshop would be equally suited to a beginner who has not yet learned this exercise as to an advanced dog needing some retraining.
Watch the Trailer
Lecture Publish Date: Sunday September 13
Video Submissions Due Date: Sunday Sept. 20 @ 12pm noon PT
Feedback & Questions Video Publish Date: Wednesday September 23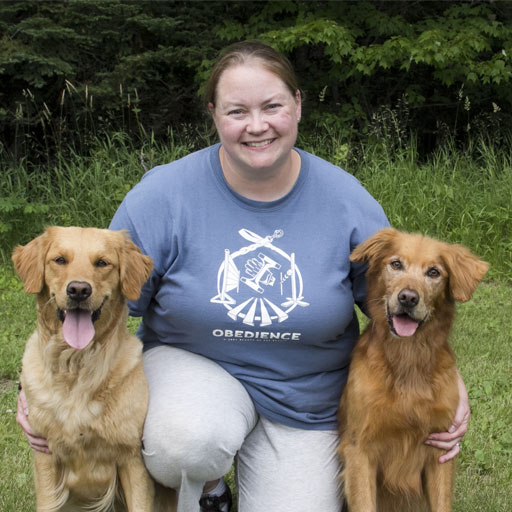 Instructor:
Nicole Wiebusch
Nicole Wiebusch (she/her) started competing in dog sports as a teenager in the 90's and quickly became addicted to the sport of obedience. In 2001, she acquired a golden retriever named Tucker who taught her that traditional methods weren't the best way to a happy confident dog. (Click here for full bio and to view Nicole's upcoming courses)