Course Details
The key to finding converged blind hides is your dog has to actually LOOK for converged hides. If you have a naturally fast dog, this can super challenging because they want to run off and find the next hide. Great! So how can we convince them that the next found hide is nearby?
The trouble is that the way that we train a dog, by necessity, patterns the dog to think that the next hide won't be close. If a naturally speedy dog develops those beliefs you might struggle to pick up those converged hides when the search is blind and you don't know how many hides there are.
In this workshop, we will systematically start to change the dog's expectations and therefore will change their search behavior. Ultimately, this is the bridge between the lower levels and higher skills. And the exciting part is that it's super easy to do!
Watch the Trailer
Lecture Publish Date: Sunday August 9
Video Submissions Due Date: Sunday August 16 @ 12pm noon PT
Feedback & Questions Video Publish Date: Wednesday August 19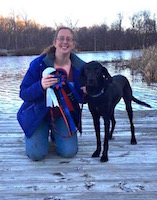 Instructor:
Stacy Barnett
Stacy Barnett (she/her) is a successful nosework competitor, being one of only a handful of teams titled through the Summit Level (SMT) in NACSW with her dog, Judd. In fact, she and Judd have earned THREE Summit titles (SMTx3)! Stacy is also an international clinician and AKC scent work judge. (Click here for full bio and to view Stacy's upcoming courses)