Course Details
Inaccessible hides don't need to be scary! You don't need to avoid training them. In this workshop series, we will explore HOW to train these skills.
This workshop will focus on the Inaccessible Hide Due to Containment. Basically, that is a fancy way of saying that we will train our dogs to find and communicate to us that there is a hide in a contained location like a cabinet or a drawer.
The key to training this skill is in timing of your marker. We will cover the steps to introduce and fine tune this type of hide but will focus our feedback on marker timing for dog's just learning the skill. You will find that timing your marker will give your dog a power boost in understanding!
Additionally, I will give you ideas on how to enhance this skill and how to build commitment for the hide. Learn how we can enhace our dog's understanding and drive for these sorts of hides. If your dog is already experienced, this part of the lecture will enhance your dog's performance.
Specific topics of the lecture portion will include:
Understanding the value of marker timing for this type of hide specifically
Discussion about reading the dog's behavior
Identification of that "AH-HA Moment"
Steps to introduce this type of hide
Examples of application of correct marker timing
HOW TO BUILD ENTHUSIASM AND CONFIDENCE
Watch the Trailer
Lecture Publish Date: Sunday July 5
Video Submissions Due Date: Sunday July 12 @ 12pm noon PT
Feedback & Questions Video Publish Date: Wednesday July 15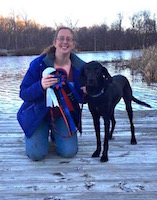 Instructor:
Stacy Barnett
Stacy Barnett (she/her) is a successful nosework competitor, being one of only a handful of teams titled through the Summit Level (SMT) in NACSW with her dog, Judd. In fact, she and Judd have earned THREE Summit titles (SMTx3)! Stacy is also an international clinician and AKC scent work judge. (Click here for full bio and to view Stacy's upcoming courses)