Course Details
Dock diving isn't as simple as just throwing a toy off the dock and seeing how far your dog can go anymore! There are foundation aspects, drills and throwing to take into consideration to get as many inches as possible.
This workshop will focus on getting bigger jumps for distance dock diving. We will begin with how to introduce your dog to the dock, how to teach them to track the toy and then discuss different options for toys and how to throw them. We will not cover how to introduce your dog to swimming.
Working spots should already love the water! Working students will need to have access to a dock for practice, the dock does not need to be designed for competition but should not be slippery or dangerous for the dog.
**** Note - This is a REPEAT Workshop that also ran in 2019 ****
Watch the Trailer:
Lecture Publish Date: Sunday June 14
Video Submissions Due Date: Sunday June 21 @ 12pm noon PT
Feedback & Questions Video Publish Date: Wednesday June 24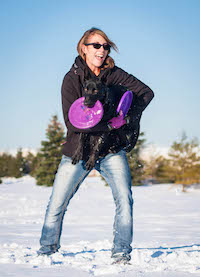 Instructor:
Sara Brueske
Sara Brueske (she/her) has been training dogs for over 15 years, and has experienced a large variety of breeds and sports during that time. Having graduated as a Karen Pryor Academy Certified Training Partner ... (click here for full bio including Sara's upcoming courses)