Course Details
Disc dog season is beginning! Are you wanting feedback on your freestyle routine before hitting the competition field? Or are you ready to know what the judges are looking for and are ready to take your routine to the next level? This workshop is for you!
We will discuss the fundamental aspects that should be considered when building a disc dog freestyle routine as well as how to set yourself up for success in regard to disc management.
Working spots will submit a video of their routine for direct feedback from Sara. Information will be provided as to what can be added or improved upon to increase scores and impress judges no matter the venue!
Watch the trailer:
Lecture Publish Date: Sunday May 3
Video Submissions Due Date: Sunday May 10 @ 12pm noon PT
Feedback & Questions Video Publish Date: Wednesday May 13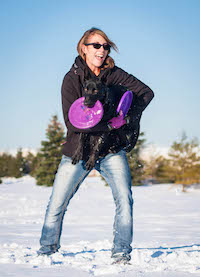 Instructor:
Sara Brueske
Sara Brueske (she/her) has been training dogs for over 15 years, and has experienced a large variety of breeds and sports during that time. Having graduated as a Karen Pryor Academy Certified Training Partner ... (click here for full bio including Sara's upcoming courses)