Course Details
Does your dog tend to work Containers like a ball bouncing around in a pinball machine? Do you worry that containers have been skipped, but you are cautious about interfering too much? Are you worried about calling "Finish" and being correct?
This workshop will use hide placement and other techniques to help your dog to learn to be more careful during a container search. We will use patterns in our layouts and hide placement to help the dog to start to search immediately (think good thresholds!) and independently.
Did you know that your dog learns through patterns? Dogs are both emotional AND cognitive creatures. We will be using their cognitive skills so that they learn through experience without interference from the handler. Everyone learns better when they figure out the answer on their own rather than have someone give them the answer... Dogs are the same!
These exercises can be done at home. Initially it may make sense to do them in a room rather than outdoors however depending on the space you have available, you could work it out. If your dog is newer to Nosework, I would suggest using cardboard boxes. More experienced dogs can use alternative containers provided that odor is readily available. The dog needs to be able to detect the odor on the first pass in order for the container to be "good" for training purposes.
You will need NINE identical containers or boxes.
Watch the trailer:
Lecture Publish Date: Sunday April 19
Video Submissions Due Date: Sunday April 26 @ 12pm noon PT
Feedback & Questions Video Publish Date: Wednesday April 29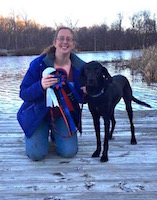 Instructor:
Stacy Barnett
Stacy Barnett is a successful nosework competitor, being one of only a handful of teams titled through the Summit Level (SMT) in NACSW with her dog, Judd. In fact, she and Judd have earned THREE Summit titles (SMTx3)! Stacy is also an international clinician and AKC scent work judge.