Course Details
Is your dog vocalizing and reinforcement seeking when you are waiting to go into the ring to trial? Can you talk to your class instructor or seminar instructor without your dog getting up, wandering around or barking at you? Does your dog crate quietly in agility class in between runs?
No? Let's teach them! We'll cover how to do this, what it looks like and why this is an important skill for your sport dog to have.
Watch the trailer:
This is a previously run workshop. Your purchase will provide access to both the original presentation recording and the student feedback recording. There is no opportunity to submit video or ask questions.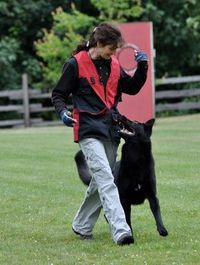 Instructor:
Shade Whitesel
Shade Whitesel (she/her) has been training and competing in dog sports since she was a kid. Always interested in how dogs learn, she has successfully competed in IPO/schutzhund, AKC obedience and French Ring. Her retired dog, Reiki vom Aegis, IPO 3, FH 1, French Ring 1, CDX, was 5th at the...(Click here for full bio and to view Shade's upcoming courses)