Course Details
Have you been nervous about teaching your dog scent articles? This workshop will guide you through the beginning steps of how to jump right in and get started! Any dog can join us, no prerequisite skills required!!
We will use a food pairing method in this class and discuss how to get started and how to fade the presence of food to get your dog searching for your scent. This workshop is for dogs brand new to scent articles or for those who are struggling at the early stages.
A pre-workshop lecture on teaching an indication with a chin rest or down alert is also released now!
Watch the trailer:
This is a previously run workshop. Your purchase will provide access to both the original presentation recording and the student feedback recording. There is no opportunity to submit video or ask questions.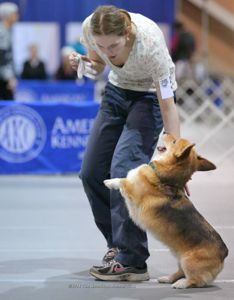 Instructor:
Laura Waudby
Laura Waudby (she/her) trains and competes in obedience, rally, agility, and dabbles in disc dog and trick training. She was halfway to her OTCH with her UDX corgi, Lance, before his early retirement. She also has championship titles in USDAA and UKI. By day...(Click here for full bio and to view Laura's upcoming courses)