Course Details
Winter is coming!
Hot, cold, raining, snowing... Sometimes you just don't want to go outside. Treadmills are a great way to exercise the dog without having to brave the weather. Treadmills can be scary and are not inherently safe. It is important to take the time to introduce the dog to all the moving parts and then gradually decrease the amount of reinforcement needed to keep your dog motivated to work out. I will use food as my reinforcement during this workshop, and your dog should be willing to work for treats.
This workshop will go over all the steps from introducing the dog to the treadmill to getting your dog trotting.
The Workshop will cover:
2 step desensitization

Teaching the dog how to safely choose NOT to do the treadmill

Walking

Trotting

Troubleshooting Tips

Care and maintenance of the treadmill

Sample basic workout
The dog is always allowed to choose to do the work and the ultimate goal is to create happy dogs that love to work out!
Watch the trailer:
Lecture Publish Date: Sunday December 15
Video Submissions Due Date: Sunday December 22 @ 12pm noon PT
Feedback & Questions Video Publish Date: Friday December 27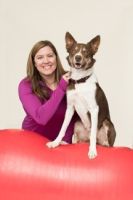 Instructor:
Leslie Eide, DVM
Leslie Eide (she/her) graduated from Colorado State University's veterinary school in 2006. She completed a rotating internship in small animal medicine in Albuquerque, NM. She continued her education by becoming certified in canine rehabilitation through the Canine Rehab Institute...(Click here for full bio and to view Leslie's upcoming courses)